Record American household debt exceeds size of Chinese GDP
Net worth at all-time high skewed toward wealthy: economist
After deleveraging in the aftermath of the last U.S. recession, Americans have once again taken on record debt loads that risk holding back the world's largest economy.
Household debt outstanding -- everything from mortgages to credit cards to car loans -- reached $12.7 trillion in the first quarter, surpassing the previous peak in 2008 before the effects of the housing market collapse took its toll, Federal Reserve Bank of New York data show. To put the borrowing in perspective, it's more than the size of China's economy or almost four times that of Germany's.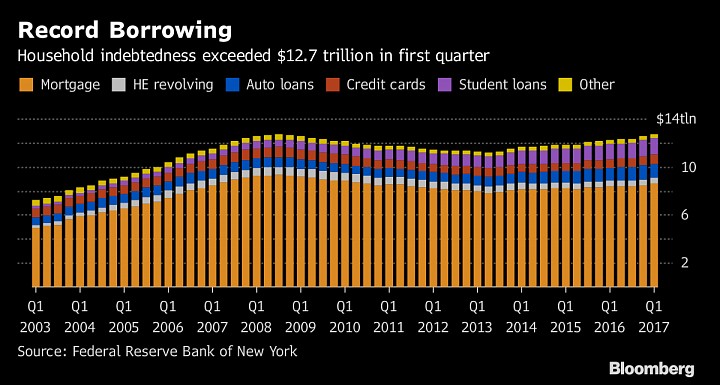 People are borrowing more not necessarily because they're confident about their financial prospects. They're doing it for necessities like education or transportation and, in many cases, just to get by.
On the surface, liabilities at an all-time high aren't alarming when the assets side of ledger is taken into account. Household net worth stands at a record $94.8 trillion, thanks to rebounding home values and soaring stock portfolios. But that increase has primarily benefited the nation's...
More