CRM platform provider salesforce.com, Inc. CRM and Amazon.com, Inc. AMZN strengthened their strategic alliance through a new venture. Per the deal, Salesforce will now go live on Amazon Web Services (AWS), which will expand its customer base in Canada.
Salesforce will now use AWS across all of its core products which include Sales Cloud, Service Cloud, Analytics Cloud, Community Cloud and more. The move appears to be a part of Salesforce's broader infrastructure expansion plan that will provide consumers with better ways of managing their data. The deal will help Salesforce to successfully expand its international infrastructure.
Shares of Salesforce increased more than 2%, yesterday, following the news. Notably, the stock has outperformed the Zacks categorized Computer-Software industry in the year-to-date period. Salesforce has returned 32.1% during the said period compared with the industry's gain of 18.8%.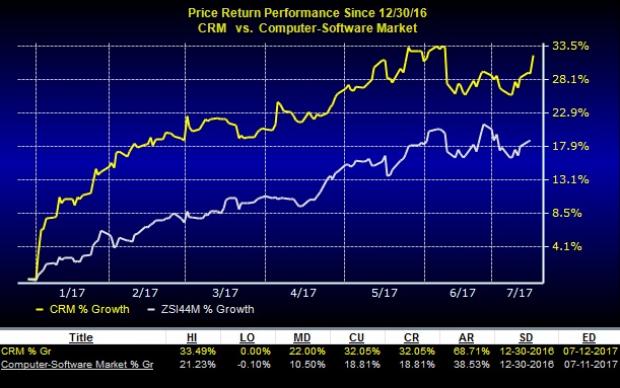 How the Deal Favors Salesforce
This is a big win for Salesforce, as it will join a list of AWS users that boasts names like Netflix, Expedia and Adobe Systems.
Until now, the company runs majority of its operations in its own data centers, excluding its app development platform Heroku and parts of its new Internet of Things Cloud service. This move signifies that Salesforce is planning a shift from data centers to cloud, partially. The deal will help Salesforce to successfully expand international infrastructure.
It must be noted that Salesforce's flagship CRM offering competes with Microsoft's MSFT Dynamics CRM. Microsoft ranks second in the IaaS segment. This makes Amazon, which is currently the market leader, the best company Salesforce could have opted for.
According to Parker Harris, Co-Founder and CTO, Salesforce, "Our alliance with AWS, an industry-leading global public cloud infrastructure, allows us to expand our infrastructure presence more quickly and efficiently so we can support our fast-growing customer base in Canada and around the world."
He further stated, "With the availability of our powerful platform on AWS, we're poised to further accelerate cloud and CRM adoption in the country and drive innovation and success with our Canadian customers and partners."
Salesforce-Amazon Partnership
This is not the first time that Salesforce has inked a deal with Amazon. The strategic partnership between the two companies was first disclosed in mid-2016. Salesforce selected Amazon's AWS as its public cloud infrastructure provider. It also agreed to invest $400 million on AWS services over the next four years.
Further in Dec 2016, Salesforce extended its partnership with Amazon, per which, the Salesforce platform will be connected to Amazon AppStream 2.0, Amazon Redshift, Alexa, AWS IoT and Amazon Virtual Private Cloud (Amazon VPC) to offer customers better ways of managing their data.
In Mar 2017, Salesforce and Amazon took forward their strategic alliance, per which, Salesforce will use Amazon Web Services (AWS) to expand its customer base in Australia.
We believe that the partnership will be mutually beneficial for the companies, going forward. It will ensure tighter integration between Amazon and Salesforce clouds, which will help customers to leverage the security and reliability of the AWS Cloud.
The Deal Win
Given the rise in the uptake of its products and favorable performance, market research firm Gartner has acknowledged Salesforce as the world's #1 CRM company based on total software revenues recorded in 2016. As per the research firm, Salesforce became the world's #1 CRM company position in Canada among the top three largest enterprise software vendors in 2016.
According to research firm IDC, Salesforce and its Canadian partners will create more than 46,000 direct and indirect jobs and nearly $1.6 billion in new GDP in Canada by 2020. Hence we believe that, Salesforce is driving the Canadian economy and creating employment opportunities.
Cloud Opportunities
According to IDC estimates, public IT cloud services spending will increase at a four-year compound annual growth rate of 23.5% in 2013–2017.
Naturally, the overall growth expectation of the public cloud computing services market is quite bullish. According to Gartner, the worldwide public cloud services market is expected to grow 18% year over year to $246.8 billion in 2017. Further, the figure will increase to $383.3 billion by 2020.
Infrastructure-as-a-Service (IaaS) is being projected as the highest growth service, driven by improvement in PaaS and massive adoption of artificial intelligence (AI), analytics and the Internet of Things (IoT). IaaS is projected to grow from $25.29 billion in 2016 to $71.55 billion in 2020.
Salesforce, with its solid portfolio and growing partnerships, is well-positioned to lead the market.
Bottom Line
Headquartered in San Francisco, Salesforce is the leading provider of on-demand Customer Relationship Management software, which enables organizations to manage critical operations such as sales force automation, customer service and support, marketing automation, document management, analytics and custom application development.
We consider the rapid adoption of Salesforce1 Customer Platform to be a positive. Overall, the company's diverse cloud offerings and considerable spending on digital marketing remain catalysts. Moreover, strategic acquisitions and the resultant synergies are expected to benefit over the long run.
Although the company has been expanding in the cloud market, growth prospects have been rationalized to a considerable extent due to intensifying competition from International Business Machines IBM, Oracle Corp. and SAP SE. Also, currency fluctuations and stepped-up investments in international expansion and data centers could impact near-term results.
Salesforce currently carries a Zacks Rank #3 (Hold).
You can see the complete list of today's Zacks #1 Rank (Strong Buy) stocks here.
More Stock News: This Is Bigger than the iPhone!
It could become the mother of all technological revolutions. Apple sold a mere 1 billion iPhones in 10 years but a new breakthrough is expected to generate more than 27 billion devices in just 3 years, creating a $1.7 trillion market.
Zacks has just released a Special Report that spotlights this fast-emerging phenomenon and 6 tickers for taking advantage of it. If you don't buy now, you may kick yourself in 2020. Click here for the 6 trades >>
Want the latest recommendations from Zacks Investment Research? Today, you can download 7 Best Stocks for the Next 30 Days.
Click to get this free report
International Business Machines Corporation (IBM): Free Stock Analysis Report
Amazon.com, Inc. (AMZN): Free Stock Analysis Report
Microsoft Corporation (MSFT): Free Stock Analysis Report
Salesforce.com Inc (CRM): Free Stock Analysis Report
To read this article on Zacks.com click here.
Zacks Investment Research