Falling stocks and a rising dollar won't be welcomed by monetary policymakers.
For the past two years, all yield curve news has been bad news — for the Federal Reserve.
In a reversal of the defining trend of the past year, the spread between two and 10-year U.S. Treasuries — known as the yield curve — has widened to more than 90 basis points on Monday morning, its highest level since the Brexit vote, amid the worldwide tumult in bond markets.
While such a widening would normally be interpreted as a positive sign for the U.S. economy, the shape of the yield curve could nevertheless cause concern for a U.S. central bank seeking to balance the needs of the economy without upsetting global markets.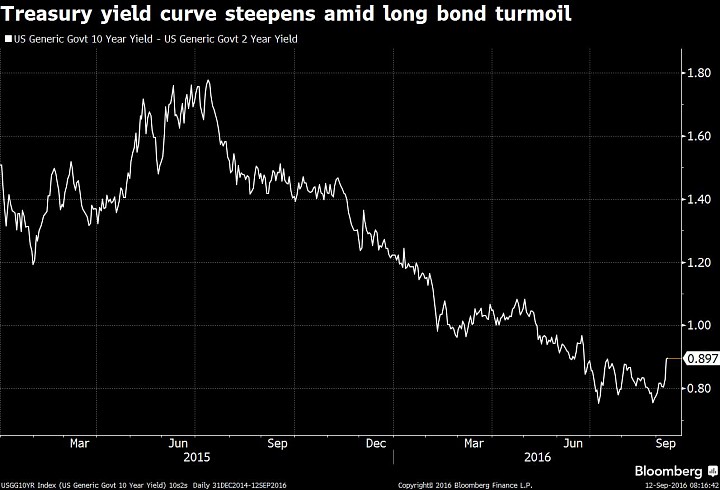 That's because the widening has been driven by a larger increase in 10-year yields than two-years, known as a steepening of the yield curve.
Such yield curves map out the rate paid to holders of government debt at various maturities, and generally slope upwards — a testament to the riskiness of lending money for a longer time period, as well as a partial reflection that central bank rates and inflation would generally be expected to rise.
So on the surface, this shift in the yield curve might be presumed to be a positive signal for the U.S. economy. The opposite dynamic — the prolonged period in which the...
More