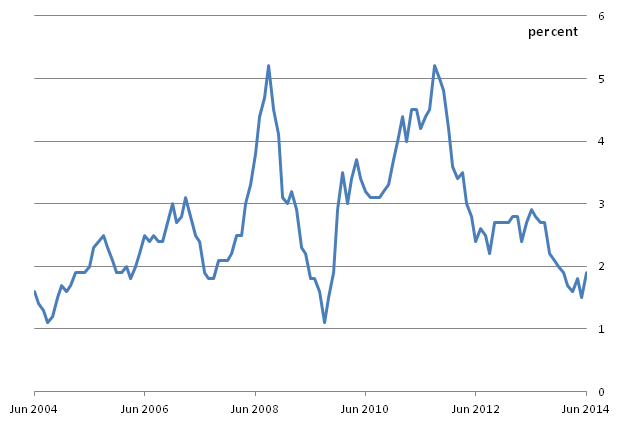 (CPI Percentage Change Over 10 years)
Pound reversed its downfall today after the release of the inflation data in U.K. The report from Office for National Statistics showed that the consumer prices rose 1.9% on a YOY basis in June greater than the economist's expectation for an increase of 1.6%. The RPI y/y which is Retail Price index and is a broader measure of the cost of living rose to 2.6% in June from 2.4% in May.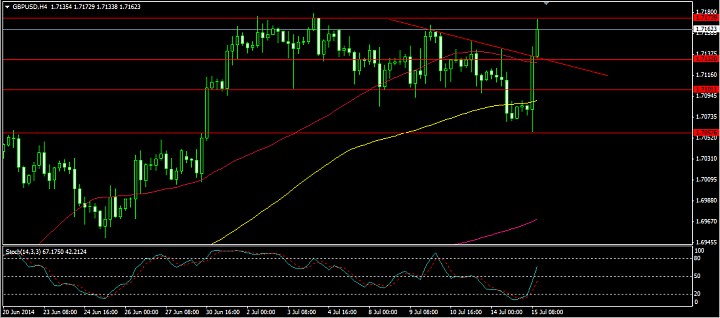 On the 4 hour chart, the pair broke down from the key support of the descending triangle at 1.7101. But the pair was not able to hold losses for a long period finding support at 1.7057 which was previously acting as resistance. It rose from this support after the release of upbeat data and broke out from the falling resistance trend line of the triangle reversing the downtrend to uptrend. Currently the pair is again trading within a narrow range of resistance at 1.7173 and support at 1.7132.
The pair is again near the multi year highs and remain supported.Mark Carney also today insisted that the increase in interest rates would be driven by the data. Although the reading is still below the inflation target of 2% but is biggest over a a single month since October 2012. GBPUSD will continue to soar now on the expectation that the Bank of England will increase the interest rate soon.