Summary
Starwood Properties Trust (STWD) pays an attractive 9.3% dividend, but it has seen its stock price tumble since last Spring;
The company has had issues in 2015, building liquidity to no purpose and being unable to find the types of deals that it is willing to take;
With Starwood's next earnings report approaching, I go through some of the issues facing the company and what I would like to see in the next earnings report.
(NYSE:STWD) has been cascading lower in price since its peak at $24.79 in March 2015. Currently it sits at 20.69, a decline of 16.5%. However, the company still trades at a premium to book value, which at the end of the second quarter was $17.39. Even with the price decline, a 19% premium is impressive when many mortgage REITs are trading at substantial discounts.
Starwood is a complex company with a lot of moving parts which describes itself as "the nation's largest commercial mortgage REIT (market cap $5.316 billion as of 06.30.15), managed by Starwood Capital Group." It would take an article much longer than this to give a comprehensive review of every aspect of Starwood's business. However, I will try to hit the highlights of most concern to investors, since that is always my focus.
With its next earnings report due on 5 November 2015 before the market open, this is a good time to review its situation and prospects.
An Overview of Starwood
I like to briefly review a company's basic financials before getting into its current issues. They help to place everything into context.
Starwood Annual Financials
| | | | | |
| --- | --- | --- | --- | --- |
| 2012 | $ 4,324,373 | $ 307,294 | $1.76 | 113,734 |
| 2013 | $110,770,575 | $ 549,495 | $1.82 | 166,495 |
| 2014 | $116,099,297 | $ 702,875 | $2.24 | 218,781 |
Source: Starwood Form 10-Ks. All amounts in 000s except per share data.
The numbers present a picture of a company that grown by leaps and bounds, while doubling the share count since 2012. I am not a huge fan of dilution, as I have discussed elsewhere. However, there is nothing wrong with shareholder dilution so long as it produces commensurate benefits to existing shareholders. Starwood's growing net income despite the dilution suggests it is doing a good job of that.
The basic fundamentals appear to be intact, as summarized in this graphic.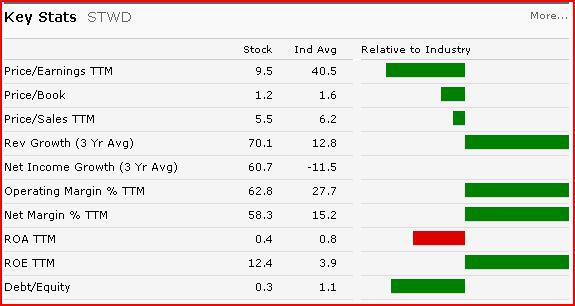 With the first half of fiscal 2015 completed, let's review how STWD has done so far this year.
Starwood Six-Month Financials
Source: Starwood Form 10-Q. All amounts in 000s except per share data. Total Assets for 2014 are as of December 31, 2014, while those for 2015 are as of June 30, 2015.
The 2015 financials that are completed so far tell a different story in some ways than the annual figures. Total assets are down, Net Income is down, but Revenue and Diluted Shares Outstanding are both still up.
Clearly, 2015 has been a weak year for the company. That helps explain the declining stock price. I'll go through possible causes for this below, and what to look for in the next earnings report.
Starwood currently pays a $0.48 quarterly dividend, or an annual dividend of $1.92. It has kept the dividend steady since last increasing it, but two cents, in March 2014. At a stock price of $20.69, that gives an annualized yield of 9.3%.
The size of the dividend grew by leaps and bounds right after the financial crisis of 2008-2009.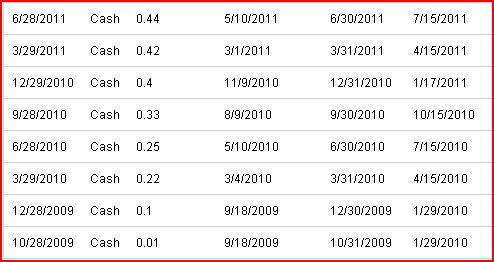 However, since 2011, the dividend only has grown by $0.04, a total increase of 9.1% in four years.
The dividend appears safe, at least for now. Extrapolating out the net income per share of the company so far in 2015, earnings for 2015 would be $2.06. That would leave a 93% coverage ratio.
There is a portion of the dividend that is return of capital. However, most of it is taxable.

A dividend over 9% is very appetizing to some income investors. As long as the company can continue to cover it, the dividend should support the stock price. While quite high relative to other stocks in general, there are mortgage REITs with higher yields. These include CYS Investments, Inc. (NYSE:CYS), at over 13%, and Annaly Capital Management (NYSE:NLY), at over 11%. I discuss both of them here.
During Starwood's 4 August 2015 conference call, CFO Rina Paniry discussed the company's share...
More