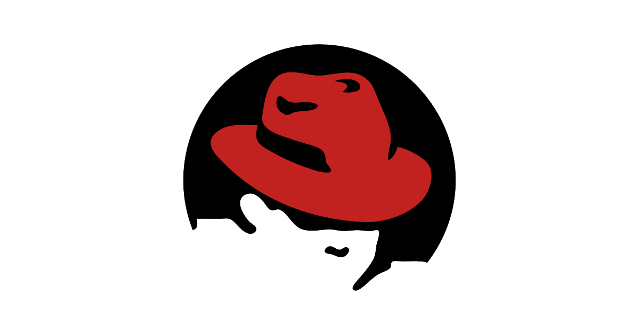 In the modern world when technologies appear one faster than another it is easy to get lost among such a huge number of promising but not profitable ideas and miss true success. Unfortunately, it happens very often but all we can notice is the same stories about unbelievable success of the same "great IT companies" that seem unreal to reach. Red Hat's performance should have an effect on investors as a red cape does for an angry bull. But why do we hear so little about this company? It is the wrong question. The right question is "Do we need to know about Red Hat?" And the only answer is HELL YEAH!
Red Hat is American software company specializing in engineering software for businesses. It provides enterprise operating system based on Linux which is open source. The company offers other IT decisions to corporations and participates in many free software projects. Open source and particularly Linux-systems are gaining popularity among programmers, as well as in business sphere. The reasons are
controversies about security that are rising more and more often;
more flexibility and variety of solutions for the firms;
support of cloud technologies which replace previous inefficient storage methods.
While overall server revenue were only growing at 3.1 percent year-over-year; Linux experienced 12.7 percent year-over-year growth for the quarter while Windows only increased 3.2 percent and UNIX was down 24.1 percent.[1] Even Mark Russinovich, chief technology officer of Microsoft Azure, says that Windows becoming open source is "definitely possible"[2]. Still not sure about prospects of Red Hat? Have you heard about Internet of Things? The thing is that with all capabilities and experience that Red Hat possesses, it can become a pioneer in this field. Take into account its recent acquisitions of companies specializing in data storage and cloud technologies[3] and investment in VMTurbo in 2015 – platform of demand-driven cloud and virtualization control aiming at optimization of computing resources and possibly creating super-efficient storage unit. Seems quite ambitious for a company that not many people heard of, right? But keep in mind that Red Hat is the first open source company that earned $1 bln during 2012 fiscal year, being founded only in 1993 and competing with well-known "giants" Apple and Google.[4]
However, Red Hat is developing its business in various direction. According to the survey among companies conducted by Red Hat, 90% of respondents predict their organization's investment for mobile application development increasing at an average growth rate of 24 percent during 2016.[5] And guess who has bought FeedHenry – a mobile application platform in 2014, acting proactively? But the key advantage of Red Hat is its loyal customer base, which was steadily increasing since its foundation. Its core business is providing services and maintenance support on the software, thus, making clients tied to the company by the long-term contracts allows to forecast continuous and stable cash flows. We can see it from Red Hat's financial data:
| | | | | | | |
| --- | --- | --- | --- | --- | --- | --- |
| | 2011 | 2012 | 2013 | 2014 | 2015 | CAGR |
| Sales/Revenue | 909.28M | 1.13B | 1.33B | 1.53B | 1.79B | 18.45% |
| Gross Income | 758.99M | 938.34M | 1.11B | 1.28B | 1.5B | 18.57% |
| Net Income | 107.28M | 146.63M | 150.2M | 178.29M | 180.2M | 13.84% |
| EBITDA | 193.67M | 251.29M | 268.02M | 308.87M | 330.26M | 14.27% |
Source: FactSet Fundamentals
As can be seen from the table, Red Hat demonstrates brilliant dynamics and there are strong reasons to believe that it will be preserved. Furthermore from the technical analysis point of view there may be forming an ascending triangle, which is a sign to buy before it breaks through.
For all of these reasons we strongly recommend to consider Red Hat as a long-term investment option. <!== INSTRUMENT %% %20000% ==!>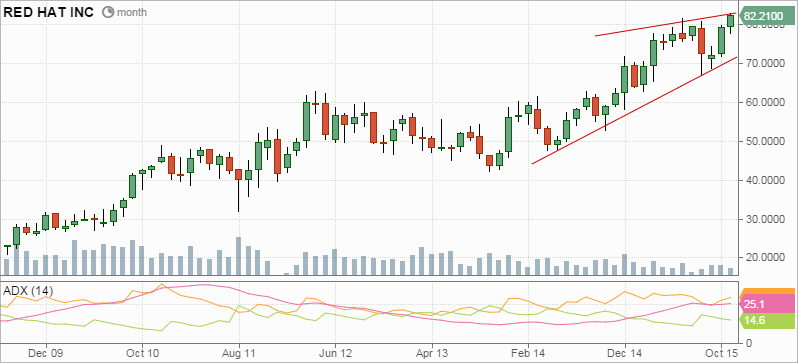 ---
[1] Report by IDC Worldwide Quarterly Server Tracker, 4Q12
[2] http://www.wired.com/2015/04/microsoft-open-source-windows-definitely-possible/
[3] Gluster in 2011, Inktank Storage in 2014, eNovance in 2014
[4] http://www.informationweek.com/software/operating-systems/red-hat-first-$1-billion-open-source-company/d/d-id/1103616?
[5] http://mobileadvertisingwatch.com/red-hat-survey-9-in-10-respondents-plan-more-mobile-app-development-in-2016-20818