During one of the most jam-packed weeks of earnings season, Jim Cramer expects the stock market's fluctuations to continue as companies' quarterly results roll in.
"The distortions caused by all these earnings coming at once are immense, so, if you're listening to me, CFOs and CEOs, please, you need to rethink when you report. You can do it earlier, you can do it later, anything but this week. You're not going to get the right prices for your stock," the "Mad Money" host said.
With nearly 200 of the S&P 500's companies set to report, here are the stocks and events Cramer will keep an eye on this week: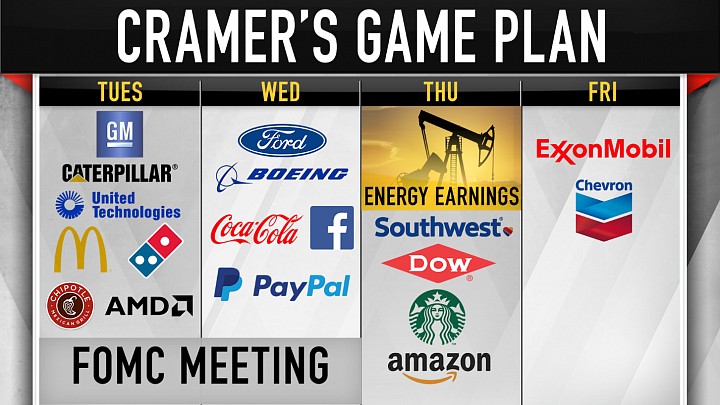 Industrials: Caterpillar, 3M and United Technologies will report earnings before the bell, and consensus expects better-than-anticipated results. Cramer's top pick is 3M, but his advice for all three was the same:
"[High expectations have] caused these stocks to ramp going into earnings, so if you want to buy them — and I totally get that you might want to, because they're great American companies— I suggest waiting until the end of the conference calls before you pull the trigger. Trading off the headlines is just way too risky this week."
Restaurants: McDonald's will report in the morning, and Cramer has noticed investors wondering how CEO Steve Easterbrook's initiatives can keep driving the fast food chain's stock up.
"I think the wonder continues, though, with better-than-expected numbers, a weaker dollar and some customer relations improvement that could continue to propel this stock," Cramer said.
Representing the best and the worst of publicly-traded fast food stocks, Domino's and Chipotle will also report earnings on Tuesday. Chipotle issues its quarterly results following a string of unfavorable incidents at its restaurants that once again made consumers question the brand.
"Remember...
More