On Jul 5, 2017, Level 3 Communications, Inc. LVLT was downgraded to Zacks Rank #4 (Sell) from Zacks Rank #3 (Hold). You can see the complete list of today's Zacks #1 Rank (Strong Buy) stocks here.
Shares of Level 3 Communications have underperformed the Zacks categorized Comm Infrastructure industry's gain over the past six months. The stock price inched up 0.9% but failed to beat the industry's gain of 8% over the same time span.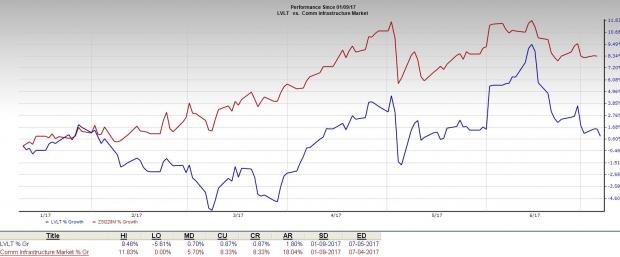 Level 3 Communications operates in a highly competitive enterprise communications market. The company has to compete with telecom giants like Verizon Communications Inc. VZ and AT&T Inc. T in North America and Telefonica, Orange ORAN, BT Group and America Movil SAB AMX in Europe and Latin America.
The company is a facilities-based provider of a range of integrated communications services. The fluctuations in the global macro economy might have an adverse effect on Level 3 Communications' business, results of operations as well as financial condition. This is because the demand for its products and services depends substantially upon the continued development and expansion of the internet. The internet serves as a communications medium and marketplace for the distribution and consumption of data and video by large enterprises and government organizations.
Customer concentration is a major concern for Level 3 Communications. The company's top 10 customers account for the majority of its total revenue. Thus, the loss of any of these customers or consolidation among them will have a significant material impact on the company's top line.
Foreign currency exchange rate risks also act as major dampeners for the company's growth prospects. As Level 3 Communications conducts a portion of its business in currencies other than the U.S. dollar, its operating results could be adversely affected by foreign currency exchange rate volatility relative to the U.S. dollar.
Today's Stocks from Zacks' Hottest Strategies
It's hard to believe, even for us at Zacks. But while the market gained +18.8% from 2016 - Q1 2017, our top stock-picking screens have returned +157.0%, +128.0%, +97.8%, +94.7%, and +90.2% respectively. And this outperformance has not just been a recent phenomenon.
Over the years it has been remarkably consistent. From 2000 - Q1 2017, the composite yearly average gain for these strategies has beaten the market more than 11X over. Maybe even more remarkable is the fact that we're willing to share their latest stocks with you without cost or obligation. See Them Free>>
Want the latest recommendations from Zacks Investment Research? Today, you can download 7 Best Stocks for the Next 30 Days.
Click to get this free report
AT&T Inc. (T): Free Stock Analysis Report
Level 3 Communications, Inc. (LVLT): Free Stock Analysis Report
Verizon Communications Inc. (VZ): Free Stock Analysis Report
America Movil, S.A.B. de C.V. (AMX): Free Stock Analysis Report
Orange (ORAN): Free Stock Analysis Report
To read this article on Zacks.com click here.
Zacks Investment Research