After the Fed raised the benchmark interest rate last week, the USD/JPY retreated instead of breaking above a consolidation resistance. This past week, it continued to fall, extending a break below the consolidation support. It was a classic case of buy-the-rumor, sell-the-news regarding the Fed rate hike.
USD/JPY Daily Chart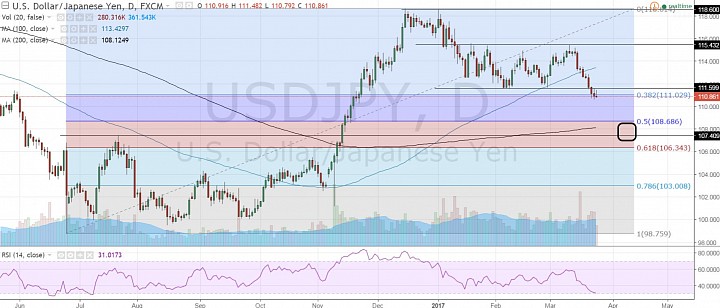 (click to enlarge)
Bearish within a Bullish Market:
- I think the bearish retreat since late 2016 is still a bearish correction against a bullish trend that started also in late 2016.
- I think the current downswing could be a c-wave of an abc correction.
- In this bearish correction outlook, I would look at the 1.0750-1.08 area for support.
- This is also near the 200-day simple moving average (SMA) as well as between the key 50% and 61.8% Fibonnaci Retracement levels. 
- Meanwhile, if we see a bullish divergence with the RSI, I think we should consider catching the USD/JPY on this dip.