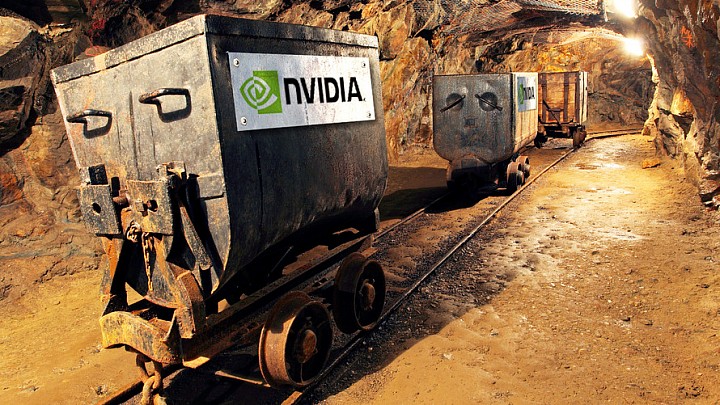 The explosion in new cryptocurrency seems to be boosting graphics-card makers like Nvidia Corp., but acting on the demand is fraught with potential danger.
When Nvidia NVDA, +1.06% reports earnings for the second quarter of its 2018 fiscal year Thursday, the demand for its graphics cards from cryptocurrency "miners" is expected to be an important topic after reports suggested that there was a run on graphics cards, especially in Eastern Europe and Asia, for use in producing newer forms of the digital currency, notably on the Ethereum blockchain. Nvidia rival Advanced Micro Devices Inc. AMD, -2.14% admitted in its quarterly earnings report, which beat expectations last month, that demand from the cryptocurrency market was an important factor in its performance, confirming some of the reports.
Also read: AMD earnings gave investors what they wanted, now it must deliver
The question is how or whether to specifically address this market for graphics cards. Analysts point out that there were surges of demand for graphics cards from cryptocurrency miners previously, but that it quickly dissipated. When that happened, many miners sold their cards on the secondary market, which can hamper demand for new cards and could be especially damaging if the companies increase shipments and suddenly have too much inventory.
Media and analysts reported in late June that Nvidia developed cryptocurrency-specific graphics-processing units, or GPUs, for release this quarter. If that is the case, Nvidia would likely announce the move Thursday in a bet that this crypto boom is different, which would be a different approach than AMD is taking.
"Some of our partners are also offering mining specific cards that have a different feature set, such that we're really segmenting the market between gaming and mining. But it's important to say we didn't have cryptocurrency in our forecast, and we're not looking at it as a long-term growth driver," AMD Chief Executive Lisa Su...
More