Welcome to the future of medicine!
Over the past few years, the FDA has approved over 100 new drugs. Guess how many the agency has described as a "cure."
If you guessed zero, then pat yourself on the back.
Don't blame the government. The word "cure" isn't in the FDA's vocabulary for a reason. With the exception of most infections, practically all diseases require lifelong therapy. But that's about to change -- rapidly.
I think you'll agree that a one-time treatment that permanently alleviates symptoms is a cure, no matter how it's described by any government agency. Thanks to the tireless efforts of Editas Medicine (NASDAQ:EDIT), bluebird bio (NASDAQ:BLUE), and Ionis Pharmaceuticals (NASDAQ:IONS) here are five diseases that just might have a "cure" available by 2026 or earlier.
1. Blindness
You can't swing a dead cat in Cambridge, Mass., without hitting a Ph.D. trying to harness the potential of CRISPR-Cas9. This cool new gene-editing system is about a zillion times more effective than previous techniques, and companies built around it are popping up like dandelions.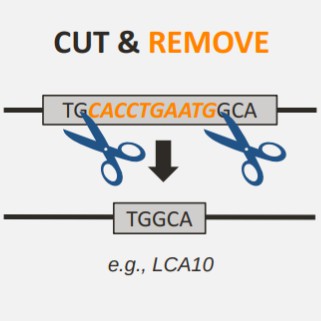 Arguably furthest ahead is Editas Medicine. It raised $94.4 million in its first public offering this February, and the stock has risen more than 80% since, valuing Editas at over $1 billion.
People with a rare form of blindness known as leber congenital amaurosis 10 will be thrilled to learn that Editas will use its vast resources on their disease first. The company thinks it can program the Cas9 protein to "cut and remove" the mutation responsible.
Since Editas has yet to submit an application for testing a product in humans, it'll be a while before we know if this will work. This particular fix might affect less than 4% of children destined for school-age blindness, but if Editas can fix one genetic defect, many more could follow.
2. Sickle cell disease
Technically, stem-cell transplants can alleviate sickle cell disease, but they're extremely risky because of graft-vs.-host disease, and so they're rarely performed. Bluebird bio's LentiGlobin program could help the 100,000 Americansand millions more people around the...
More