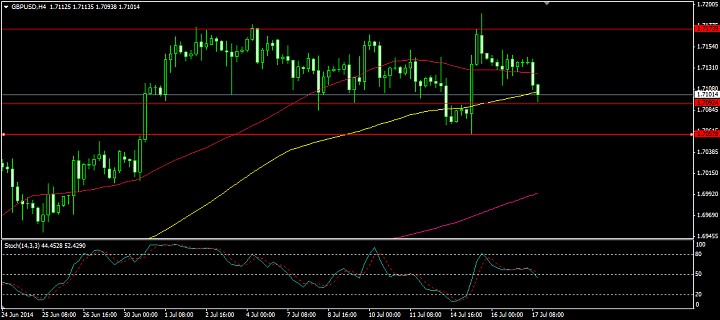 (GBPUSD : 4 Hour Chart)
GBPUSD has extended its losses finding resistance from 1.7173 and declining towards the key support at 1.7092. If the pair declines below this support level the pair may find the next support level at 1.7057. Also the demand for US dollar continue to be supported by the Fed chairwoman Yellen comments that the rates could rise sooner if the economic recovery continued to improve. However investors ignored the fact that if the recovery disappoints, fed will continue to support the economy through monetary policy. 
However the demand for dollar may fade away as the market again became cautious after U.S. and European Union announced a fresh round of sanctions against Russia in response to which Russian President Vladimir Putin said that their relations with U.S. are in danger of reaching a dead end and could also damage U.S. business interests in his country.
The pair might be posting losses but it remain seems to be supported. The 50 day SMA was contracting towards the 100 day SMA, an thus we saw losses. But if it again move upward in the same direction other SMAs are moving might bring the pair to the previous position.