The GBP/USD has been trading in a slightly bearish correction channel this week. From last week's high of 1.7062, the pair reached a low this week of 1.6948. After the BoE Financial Stability Report and Carney's press conference, the GBP rallied. GBP/USD broke above the falling channel trendline, signalling bullish continuation, at least to challenge the 1.7062 and threaten a new high on the year.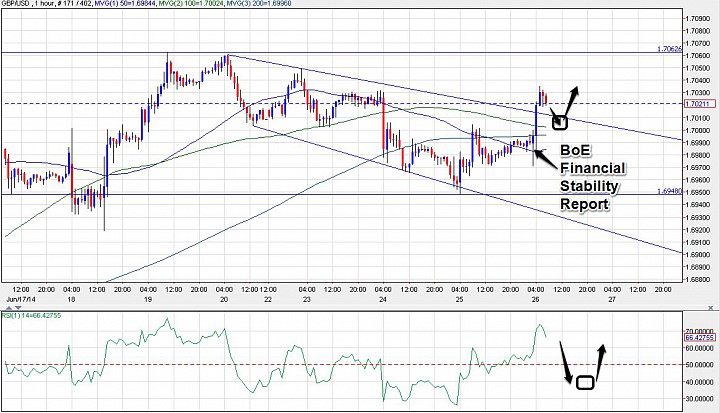 (gbpusd 1h chart, 6/26)
The 1H chart is a bit overbought at the moment. If there is a pullback, watch out for support around 1.70 especially if the 1H RSI is back around 40. If the market drives GBP/USD back below 1.6970, it is likely to extend this week's bearish correction, with near-term downside risk toward last week's 1.6920 low. 
The Bank of England delivered its semi-annual Financial Stability Report today. Carney spoke and addressed soaring home prices which jumped 9.9% in April. The bank proposed measures to try to cool the market.
- The main proposal is a cap of 15% new mortgages that can be 4.5x borrowers income.
- Loans that are 4.5x income will no longer be available under "Help to Buy" program.
- Banks will stress test borrowers to see if they can repay with rates at 3%