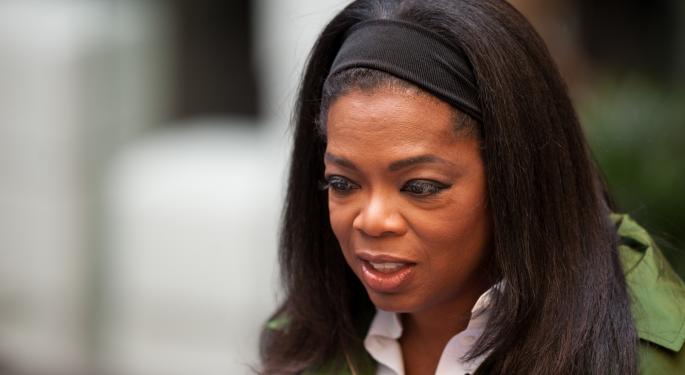 When observing the torrid price action in Weight Watchers International, Inc. WTW 7.43%, investors need to examine the issue from a longer-term perspective.
The stock's all-time-high was made in May 2011 at $86.97, seven months after the company overhauled its point system (PointPlus), which was to incorporate a more scientific approach to their dieting methodology.
This provided a temporary boost to the issue, but has fallen short of providing long-term earnings growth. As a result, the issue has been one of the worst performers on Wall Street during a roaring bull market, when it bottomed in July 2015 at $3.67.
A Look Back
After reaching that level, it clawed its way back to the $7 area by mid-October. Then came the announcement that Oprah Winfrey took a 10 percent stake and joined the Board of Directors.
The surprise announcement coupled with the high short-interest in the issue ignited a mind-boggling rally to $28.05 by November 19. Keep in mind, on November 5, the company reported an EPS beat and slight revenue beat. What bulls may have overlooked in the report was that the revenue of $273.3 million was just 58 percent of its revenue from its Q3 2012 report.
When the issue ran out of investors chasing the "Oprah rally," things got ugly over the next few months, with a majority of the damage coming between November (month-end close $26.38) and February (month-end close $11.77).
Add to the mix three straight EPS misses and it's no wonder the issue has continued to deteriorate in price.
This Week
After Monday's close, the company announced its CEO was resigning. The issue was pounded in after-hours trading to a low of $9.69 (falling from its close on Monday of $10.36) before staging a rebound.
With the stock trading trading around $9.70, its lowest level since Oprah's involvement, investors may notice the issue spiked off its low to $10.40 around 10:00 a.m. ET. That can be attributed a rumor that a private equity group may be interested in purchasing the company.
After those rumors were denied by Benzinga, the issue has been inundated with sellers. What may be more concerning for longs is that the issue has entered uncharted waters going back to mid-October.
In other words, the announcement by Oprah instigated a void in price action from its October 16 high ($6.93) to its October 19 low ($10.76). Therefore, some market technicians are calling for this void in price action to be filled with issue going back to $6.93 or lower.
Based on this week's news and today's price action, that may not be such a bold prediction.
By Bill Ebbesen (Transferred from en.wikipedia) [CC BY 3.0 (http://creativecommons.org/licenses/by/3.0)], via Wikimedia Commons
© 2016 Benzinga.com. Benzinga does not provide investment advice. All rights reserved.