A few years ago, growth in the Asia-Pacific region seemed like a great opportunity for Hawaiian Airlines parent Hawaiian Holdings (NASDAQ:HA). By early 2013, the airline was getting about a third of its revenue from its international routes.
However, these markets have mostly fallen short of expectations. In the past three years or so, the U.S. dollar has strengthened dramatically against most currencies in the Asia-Pacific region, particularly the yen and the Australian dollar. Coincidentally, Japan and Australia are Hawaiian Airlines' top two international markets. Since most tickets on these routes are purchased in foreign currency, the strong dollar has hurt Hawaiian's revenue.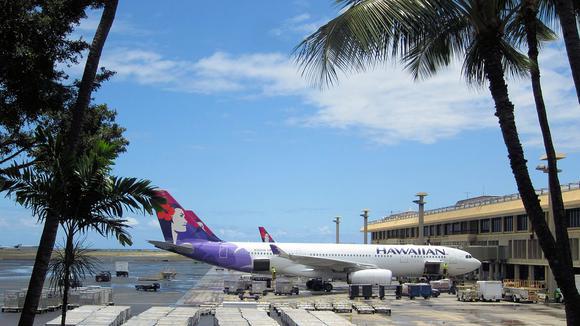 In the past year, falling oil prices have produced dramatic cost savings for Hawaiian Airlines and other airlines. But even that has been a mixed blessing. On international routes, fuel surcharges have fallen dramatically, further weakening unit revenue. Furthermore, foreign competitors have added capacity in several markets, taking advantage of the improved cost environment.
Fortunately, Hawaiian Airlines is about to catch a break from U.S. competitor Delta Air Lines (NYSE:DAL). Delta is one of the top airlines on Japan-Hawaii routes, but it is making big cuts this fall to bolster its own profitability. This reduced competition should help Hawaiian, too.
Japan is still a key market
Despite moving to redeploy capacity to the U.S. in the past couple of years, international routes still contribute more than 20% of Hawaiian Airlines' revenue. Japan remain Hawaiian's top international market by far. It operates 17 weekly flights to Japan, compared to 11 weekly flights to Australia and five or fewer weekly flights to each of its other foreign markets.
As a result, Japan still likely accounts for about...
More