The people shown on the photo below, also known as "the people in charge"...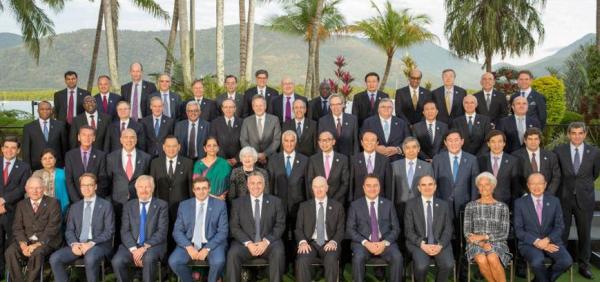 ... have a warning for the algos.
First, a step back.
Two months ago, none other than Janet Yellen warned that a bubble is forming in some equity sectors, namely biotechs and social media when the Fed said that "valuation metrics in some sectors do appear substantially stretched—particularly those for smaller firms in the social media and biotechnology industries, despite a notable downturn in equity prices for such firms early in the year."
The warning was ignored, and as a result both biotechs and social/tech stocks have soared to fresh post dot com, if not record, highs.
Then, a week ago, the central banks' central bank, BIS, warned again of unprecedented complacency when it said there was "low volatility everywhere", and once again reprised its warning from the summer of 2013, that there is a asset bubble, and that it is central banks policies themselves that are responsible for this.
This warning too was ignored, although one wonders why: while there is no doubt that it is the central banks that are reflating the bubble to end all bubbles, it is not as if the BIS' Board of Directors, shown below, is unaware of the BIS' own warnings: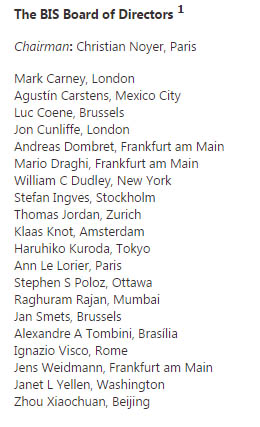 Then earlier last week, the very organization that is in charge of globalization and perpetuating the status quo, the IMF said "that excessive risk taking may be building up, which could sharply reverse in the run-up to U.S. rate hikes or should geopolitical events trigger higher risk aversion."
Nobody even pretended to pay attention, even as the Financial Stability Board came out with a statement the very same day also warning that investors are becoming complacent about risks in financial markets.
Finally on Friday, none other than the Fed itself in the fact of Dallas Fed president Dick Fisher, admitted that "the Fed has levitated markets."
The result? Stocks soared to records highs as Alibaba's IPO priced, soared over 30%, and briefly was more valuable than Walmart, before settling at a much more reasonable 30x forward EBITDA multiple.
So with everyone ignoring any warning that there is froth, bubbles, or outright irrational exuberance in the market, uttered by the very people who are in charge of creating these bubbles in the first place, we found it rather amusing that the 20 most developed nations in the world, which met yesterday in Cairns, Australia, decided to be the latest to issue yet another hollow warning, which obviously will fall on deaf algorithmic ears, when a memo issued by the Group of 20 finance chiefs and central bankers "said low interest rates are contributing to a potential increase in financial market risk, as major policy makers rely on monetary stimulus to bolster growth."
"We are mindful of the potential for a build-up of excessive risk in financial markets, particularly in an environment of low interest rates and low asset price volatility," the G-20 officials said in a communique released in Cairns, Australia. "We welcome the stronger economic conditions in some key economies, although growth in the global economy is uneven."
It is unclear just what that statement means: BTFATH, but only on a downtick?
Putting this meeting in context, the G-20 met as the global economic recovery has once again faltered since a February G-20 meeting in Sydney when nobody apparently noticed the "harsh snowfall" that had just taken place in the US and was about to subtract $150 billion in potential US GDP growth, and of course as it is almost a given that Europe is about to enter a triple-dip recession. In Asia, Japan's revival is being blunted by a sales tax increase and concerns are mounting that China's 7.5%growth target for 2014 is becoming harder to attain.
In other words, the G-20 is warning that the credit bubble that has kep the world afloat is about to explode, even as its impact on the global economy, by kicking the can on the day of inevitable reckoning, is the weakest since the Lehman failure.
Bottom line: monetary policy, which has done nothing but push risky asset values to record, all time high levels, has failed to stimulate the global economy into the much needed "take off velocity" necessary for the virtuous cycle that is critical for central planning to be able to pull away from micromanaging capital markets around the globe. In fact, quite the opposite. And this time around, after 6 years of consecutive failures, even the G-20 itself is realizing the time to make hard decisions has come.
What does this mean? Bloomberg explains:
Policy makers in the U.S. and Canada are putting pressure on Europe to bolster demand. U.S. Treasury Secretary Jacob J. Lew has urged Europe to spur demand, while Canada's Oliver has said some European countries should consider additional fiscal measures.

 

"It became clear that in the short-term, more work needs to be done to bolster cyclical measures," Mexican Deputy Finance Minister Fernando Aportela said in an interview in Cairns.

 

"There was a strong focus on the need to carefully communicate potential monetary policy changes," Hockey said. "In this regard I want to particularly commend the chair of the Federal Reserve, Janet Yellen, for the careful and deliberate way she has undertaken this difficult task."

 

Lagarde stressed the importance of finding the right policy mix for each country. "The recommendations have to be tailored and targeted for each and every country," she said. "Each and every one is different."
Translated, this means that while the world was able to avoid making any tough fiscal choices to boost growth, instead punting to central banks time and time again, the time when "Mr. Chairmanwoman will not get to work" has arrived. As such it is up to the various local governments to finally pick up the baton and instead of pushing regional equity markets to record highs rewarding on ly the super rich, it is time to encourage broad fiscal reform.
And since the only thing more incompetent than a central banker are the bought and paid for corrupt corporate muppets also known as "politicians", the time to secure seat belts appears to have finally arrived.
Finally, one wonders: just what needs to happen for any of these warnings to be finally not ignored by the market: should the alphabet soup of enabling "warners" listed above, the Fed, BIS, IMF, FSB, etc, have to start speaking in binary for the algos to understand the message?
Source: Communique Meeting of G20 Finance Ministers and Central Bank Governors