As the Obama Administration ends and the Trump Administration begins, there's a lot of uncertainty facing the solar industry. The market's first reaction post-election was to send stocks like SunPower Corporation (NASDAQ: SPWR) , First Solar, Inc. (NASDAQ: FSLR) , SolarEdge Technologies (NASDAQ: SEDG) , and Canadian Solar Inc. (NASDAQ: CSIQ) lower by double digits .
It's true that the next administration won't be as friendly to solar energy, but at this point it may not matter. The progress made in solar energy over the past six years shows that solar energy is rapidly becoming competitive and will be good for jobs, energy security, and businesses. Here's a look at how far the industry has come.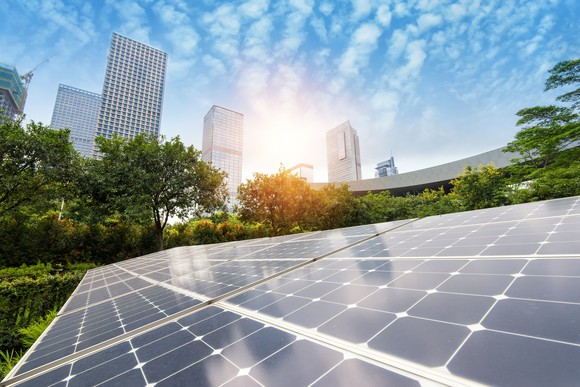 Image source: Getty Images.
SunShot's success story
In 2011, President Obama launched a program called SunShot aimed at making the cost of solar energy competitive with that of fossil fuels by 2020. Five years later, the solar industry has reached most of its 2020 goals, and the program is back with even more ambitious goals for 2030.
Below is a chart SunShot just posted that shows where solar energy costs without subsidies stand today, along with 2010 costs and targets for 2020 and 2030.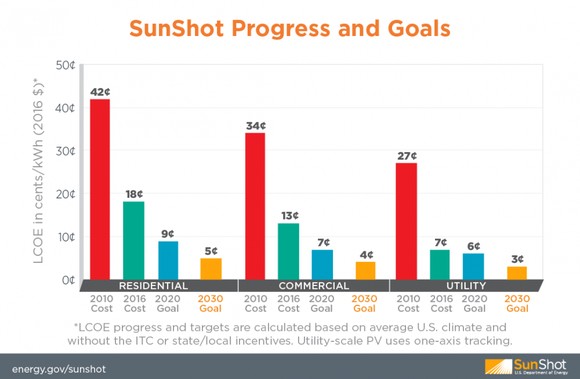 Image source: .
Solar energy is already competitive with fossil fuels in some locations today, and the 2020 goals, which are close to being hit, will make solar even more attractive. For example, the...
More