Todd Rosenbluth is director of ETF and mutual fund research at CFRA.
As earnings season kicks off, investors will be closely watching the U.S. technology sector. Expectations for strong results are high. However, ETF investors will want to understand the industry-exposure differences of products they own or are considering owning, since not all tech companies have the same fundamentals.
Heading into the first-quarter 2017 earnings season, the S&P 500 information technology sector was expected to report earnings growth of 16.2%, according to S&P Capital IQ consensus estimates as of April 12. That represents the highest growth in the index after energy and ahead of the S&P 500's 9.7%.
While energy is projected to bounce back from a prior loss, technology is likely to be a top-three growth leader for the S&P 500 Index for the third quarter in a row, according to Lindsey Bell, an investment strategist at CFRA Research.
Bell highlights that the semiconductor/semiconductor equipment industry is likely to be the driver in the first quarter, with a 39.4% projected growth rate. CFRA equity analysts cover 54 U.S. stocks within the industry and have 24 strong buy or buy recommendations. Other industries expected to experience double-digit growth for the quarter include internet software and services (28.3%) and electronic equipment and instruments (18.8%).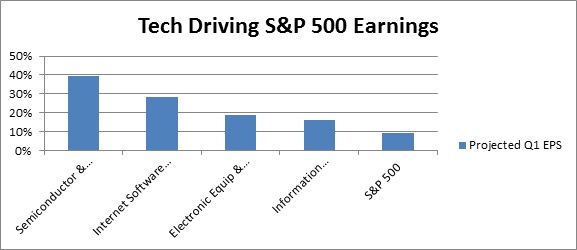 More