Gold prices have stalled since July after a run up to 1370. 

XAU/USD 4H Chart 8/17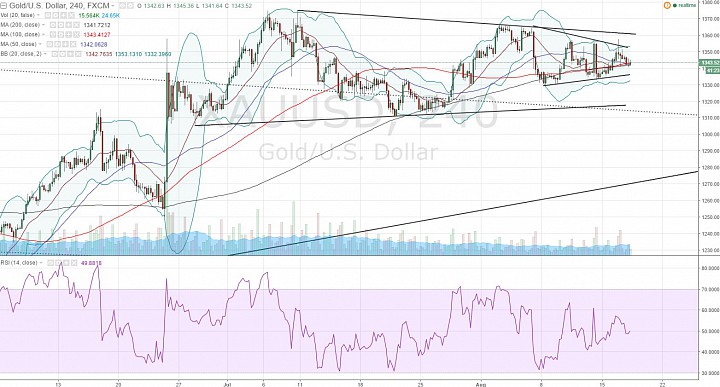 (click to enlarge)
Coiling within coiling:
- As we can see in the 4H chart, gold has been trading sideways since July.
- When we project the support and resistance lines, we can see that the market is also coiling.
- Price action is also coiling in a smaller scale in August.

Breakout from coiling:
- I have no idea which direction gold will breakout from coiling.
- But after consolidating for almost 2 months now, the breakout should provide a strong indication of the short to medium-term outlook.

XAU/USD Weekly Chart 8/17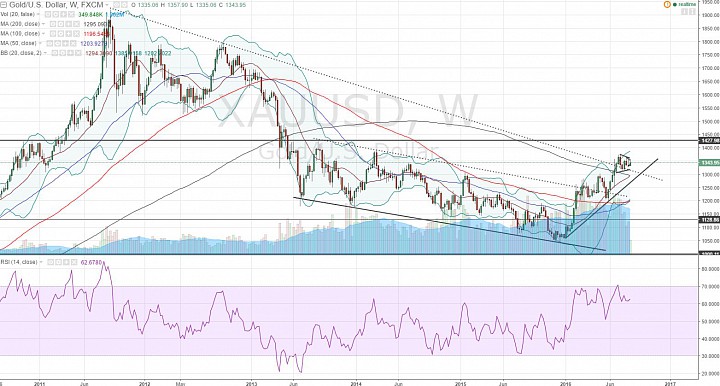 (click to enlarge)
Bullish bias:
- I said I have no idea where gold will break, but if I to assign a bias it would be to the upside.
- The prevailing trend in 2016 has been bullish.
- This bullish push has broken above a falling trendline and put gold back above the 200-, 100-, and 50-week simple moving averages (SMAs). 
- I think there will be a lot of challenge (support) if XAU/USD uncoiils downwards. For example, the 1300 handle will be a critical support. 
- A break below 1300 could shelve the bullish bias. 
- However, if the 2016 trend is to continue, we should look for price to at least challenge the resistance pivot around 1425-1430 .
- I would say that the bullish continuation scenario has the 1500 handle in sight, but might find major resistance first in the 1400-1430 area.