Aduro BioTech, Inc. ADRO reported second-quarter 2017 loss of 27 cents per share, narrower than the Zacks Consensus Estimate of a loss of 36 cents. However, the company reported earnings of 3 cents per share a year ago.
Quarterly revenues plunged 84.9% year over year to $5.9 million. This top-line deterioration was mainly due to the recognition of a milestone payment of $35 million in the second quarter of 2016, pursuant to an agreement with Novartis NVS for development of ADU-S100 in combination with anti-PD1 checkpoint inhibitor.
However, the decrease was partially offset by a recognition of $2 million milestone payment under collaboration with Merck & Co MRK with a view to investigate CRS-207 combined with Merck's anti-PD-1 therapy, Keytruda, for treating gastric cancer. Revenues surpassed the Zacks Consensus Estimate of $4 million.
Aduro' shares have outperformed the industry so far this year. Shares of the company have rallied 10.5% while the industry has registered an increase of 9.9%.

Research and development expenses showed a substantial decline of 20.4% in the quarter to $21.4 million, mainly due to a decrease in expenses related to the manufacturing of GVAX pancreas and pancreatic cancer clinical study expense, incurred in the second quarter of 2016.
General and administrative expenses were $8.2 million, down 4.6% year over year due to lower consulting and professional fees.
Pipeline Update
Aduro has a broad pipeline of novel immunotherapies under development for treatment of a variety of cancers.
The most advanced programs from the LADD platform is a combination of CRS-207 – Aduro's LADD (live, attenuated double-deleted)-based immunotherapy, GVAX Pancreas and Bristol-Myers Squibb Company's BMY Opdivo (anti-PD1 checkpoint inhibitor) – that is currently under evaluation in the phase II STELLAR study on patients with metastatic pancreatic cancer.
Aduro has also completed enrollment in the initial cohort of the phase Ib study, evaluating the combination of CRS-207 and standard-of-care chemotherapy on patients with unresectable malignant pleural mesothelioma. In Jun 2017, Aduro Biotech announced initiation of a phase II study to evaluate a combination therapy of CRS-207 with Merck's Keytruda for treating patients previously nursed for malignant pleural mesothelioma (MPM).
During the same month, Aduro announced that the FDA has cleared the Investigational new drug application (IND) for ADU-S100 (MIW815). Combined with Novartis' investigational anti-PD-1 checkpoint inhibitor-PDR00, the candidate is developed for treating advanced/metastatic solid tumors or lymphomas.
Aduro Biotech, Inc. Price, Consensus and EPS Surprise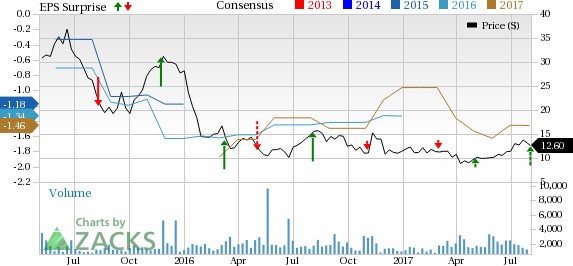 Aduro Biotech, Inc. Price, Consensus and EPS Surprise | Aduro Biotech, Inc. Quote
Zacks Rank
Aduro currently carries a Zacks Rank #3 (Hold). You can see the complete list of today's Zacks #1 Rank (Strong Buy) stocks here.
More Stock News: Tech Opportunity Worth $386 Billion in 2017
From driverless cars to artificial intelligence, we've seen an unsurpassed growth of high-tech products in recent months. Yesterday's science-fiction is becoming today's reality. Despite all the innovation, there is a single component no tech company can survive without. Demand for this critical device will reach $387 billion this year alone, and it's likely to grow even faster in the future.
Zacks has released a brand-new Special Report to help you take advantage of this exciting investment opportunity. Most importantly, it reveals 4 stocks with massive profit potential. See these stocks now>>
Want the latest recommendations from Zacks Investment Research? Today, you can download 7 Best Stocks for the Next 30 Days.
Click to get this free report
Bristol-Myers Squibb Company (BMY): Free Stock Analysis Report
Novartis AG (NVS): Free Stock Analysis Report
Merck & Company, Inc. (MRK): Free Stock Analysis Report
Aduro Biotech, Inc. (ADRO): Free Stock Analysis Report
To read this article on Zacks.com click here.
Zacks Investment Research