Dunkin' Brands Group is one of the world's leading franchisor of quick service restaurants serving hot and cold coffee and baked goods, as well as hard-serve ice cream. There are more than 17 400 points of distribution in nearly 60 countries worldwide. Two group's brands Dunkin' Donuts and Baskin-Robbins are among the world's most recognized bands that have strong international presence.  Dunkin' Brands owns only 26 restaurants and 100% franchised. The key drivers for the Group include innovations and new products development (e.g. Dunkin' Donuts K-cups), store expansion and continuing to deliver attractive franchisee returns. The company mostly focused on the U.S. business than foreign one: about 75% of revenue coming from Dunkin' U.S., 18% from international business and about 7% from U.S. Baskin Robbins. 151 new restaurants were opened in the 2nd quarter including 63 Dunkin' Donuts and 5 Baskin-Robbins U.S. locations, 33 new Dunkin' Donuts and 50 Baskin-Robbins international locations.
The Group believes that international business and then BR U.S. development are the key drivers in the medium and long-term. The implementation of a new strategy has already started by opening stores in London, other focus is Asia and Southern Asia. Strong marketing sources like social media and mobile apps provide additional benefits and clients' loyalty. Dunkin' Brands now focuses on high margin beverage, this is the way they view themselves.
As for the 1H2013 results, the Group earned $344,3mn, which is 6% higher than on the 1H2012. Key revenue from franchise fees grew by 7,2% y/y to $216,6mn as well as ice cream products revenue significantly increased by 10,2% y/y to $56,4mn. However, operating costs decreased by 5,6% to $218,9mn. Operating income for the 1H2013 amounted to $140,3mn, therefore, operating income margin was 40,7% as compared to 31,2% in 1H2012. Net income for the period sharply increased by 45,4% y/y to $64,6mn, while net income margin rose from 13,7% to 18,8%. Moreover, they increased quarterly dividend per common share from $0,15 in 2012 to $0,19 in 2013. According to the guidance for 2013 Dunkin' Donuts plan to increase their revenue by 6-8% in average, adjusted operating income growth by 10-12% and adjusted operating income margin by 1,5-2,0p.p.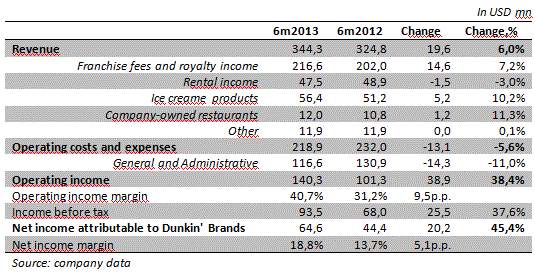 Consensus target price – $46,44, short-term goal - $47.