Earlier today, one of the most hyped M&A deals currently on the block was unexpectedly yanked, when seed giant Monsanto announced that it would drop its $46 billion takeover bid for Swiss pesticides firm Syngenta. While the deal was strongly resisted, it was largely expected it would pass as a result of the near-monopoly agri- biotech that would be formed as a result, and that MON would sweeten the offer enough until it got the target's approval. It did not and as a result, Syngenta stock crashed earlier today, tumbling as much as 20%.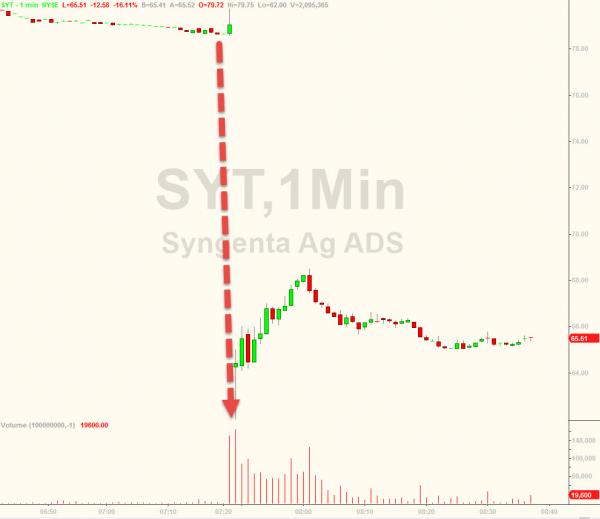 As WSJ reminds us, Monsanto, the world's largest seller of seeds, proposed in late April a deal that would have created a world leader in both seed and pesticide sales. The St. Louis-based company says the new entity would be better equipped to formulate new products and bring them quickly to farm fields.
On Aug. 18, Monsanto increased its takeover offer to a value of 470 Swiss francs a share in cash and stock, up from its original offer of 449 francs and making the deal worth about $46 billion. The proposal also increased the reverse breakup fee to $3 billion.

 

However, executives for Swiss-based Syngenta have repeatedly said they were committed to fending off the deal, claiming that it was "inadequate on so many perspectives" and too vulnerable to objections from antitrust regulators.
Which brings us to the question of the biggest losers: as the WSJ further writes, "some Syngenta shareholders had voiced discontent over the pesticide maker's steadfast refusal over the past three months to enter negotiations with Monsanto, and over Syngenta's communications with its own shareholders on the matter. "
One among them was the infamous John Paulson.  This is what Bloomberg reported one month ago:
Paulson & Co., the hedge fund of billionaire investor John Paulson, has taken a stake in Syngenta AG in a sign the firm backs a takeover attempt by Monsanto Co., people with knowledge of the matter said. Paulson & Co. has amassed a

 

large number of shares in the Swiss pesticide company that's trying to fend off a $45 billion takeover offer from U.S. rival Monsanto Co. and is supportive of a deal between the two, said the people, who asked not to be identified discussing private information.

 

The stake, which hasn't been publicly disclosed, may put Paulson & Co. among the 20 largest shareholders in Syngenta, one person said. John Paulson has a reputation for using his hedge fund to take large positions in companies engaged in ongoing merger discussions and voicing his support for a transaction. It's not clear if Paulson will go public with his stake and his support of a Monsanto-Syngenta merger.
It is now certain that he won't, the only question is how much did Paulson lose, especially if this wasn't a pure merger arb for Paulson with an offsetting position in Monsanto, which would have left the billionaire hedge funder completely exposed to an event like today's.
As Bloomberg noted, the size of Paulson's stake is unknown, however we do know that the top 20 shareholders top out at about $150 million in SYNN holdings. Assuming a $200 million Paulson stake, that means that Paulson's paper losses were likely $30-40 million today (depending on the price he build up his stake), losses which may have been booked if Paulson decided to cash out.
That of course, excludes the recent P&L of all his other pro-cyclical, and very much bullish, positions which have likely gotten shellacked in last week's correction.
By how much? We will have to wait until the next monthly report, or weekly HSBC update for the number, although just like in years past it may already be time to rename Advantage Plus to Disadvantage Minus.