The AUD/NZD is closed Friday (10/9) with the strongest bullish candle since mid-September, about 3 trading weeks ago, and about 17-18 trading days ago. Going into Friday, AUD/NZD was bearish, pushing below 1.09. However, after Friday's bounce, we can see that last week's decline has slowed compared to the decline in the previous couple of weeks.

AUD/NZD Daily Chart 10/10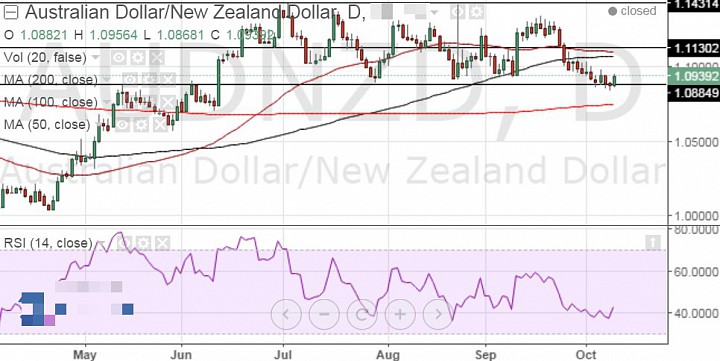 (click to enlarge)

Why does this matter? Well, AUD/NZD is essentially trading at a key consolidation support. There is still potential for support here just below 1.09, albeit price already having cracked the previous consolidation support pivot at 1.0885.

1) The break of consolidation support is not clear.
2) The RSI is still mostly above 40.
3) Price is still above the 200-day SMA.

These are reasons we can assess Friday's strong bullish candle as a sign that we might have a bullish rebound in the week ahead for the short-term. Now, the mode of AUD/NZD has been bullish before the consolidation began in July. So, it would not be too aggressive to target the 1.1430 high. However, if the AUD/NZD is no longer bullish, we might want to limit the bullish outlook. The 1.1130 area is the middle of the range and near some support/resistance pivots within the range. 1.1130 could therefore be a conservative bullish target.