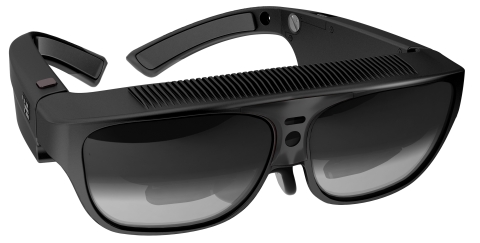 SAN FRANCISCO--(BUSINESS WIRE)--Osterhout Design Group (ODG) today announced that it's R-7—the world's most advanced Augmented Reality (AR) Smartglasses, featuring stunning ultra-transparent 3D stereoscopic displays and packed with innovative technologies, is seeing major traction across key markets including healthcare, energy, transportation, warehouse & logistics and government. ODG also announced expanded opportunities for Smartglasses application developers through its ReticleOS Developer program, and for its growing ecosystem of partners through its Reticle Connect partner program. In a further display of leading-edge creativity, the company will demonstrate an immersive ultra-wide field of view (WFOV) technology prototype at CES (Booth 26424, LVCC, South Hall 2).
Wrapped in a dramatically smaller, lighter and sleeker design, the groundbreaking R-7 —which recently earned a CES 2016 Best of Innovation Award for the Tablet and Mobile computing category—is a next-generation computing platform that gives users the power and performance of a tablet, completely hands free. It delivers an unparalleled user experience of display clarity, on-board processing power and connectivity, with no external computing or other support needed. Early adopters are building content that uses the core functionality of tele-presence, 3D visualization, assisted reality and AR. The R-7 is shipping now with a base price of $2750.
"It's hard to overstate the impact head-worn computing will have on all walks of life," said Ralph Osterhout, CEO of ODG. "I believe we're going to see the R-7 transform enterprise and industrial markets and use cases—potentially even spawning new industries. And this is...
More