Hibbett Sports, Inc.'s HIBB stock has long been in troubled waters, as evident from the 41.2% slump it has witnessed over the past one year. Clearly, the company has underperformed the Zacks categorized Retail – Miscellaneous/Diversified industry that gained 11.5% over the same time frame. Hibbett's dismal sales surprise history tells the tale of this miserable performance. Nevertheless, the company is striving to revive its top line, which is clear from its robust omnichannel initiatives.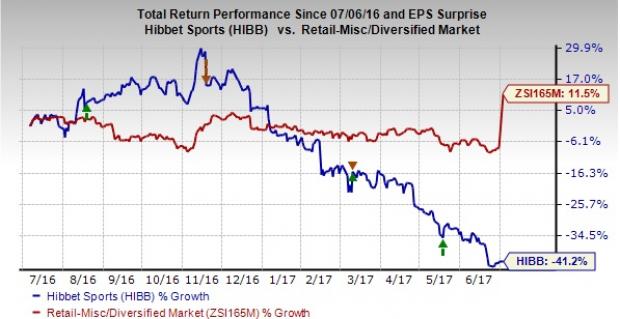 So, let's weigh the pros and cons, to assess what's in store for this sporting goods retailer.

What Caused HIBB to Derail?

As mentioned above, Hibbett has been posting lower-than-expected top-line results for quite some time now. Evidently, the company has lagged the sales estimates in eight out of the past nine quarters. In its last reported first-quarter fiscal 2018, both the top and bottom lines declined year over year, with sales falling short of the Zacks Consensus Estimate. Hibbett's bottom line witnessed its last year-over-year growth in second-quarter fiscal 2017, after which it has declined in three consecutive quarters. This is well-reflected in the chart below.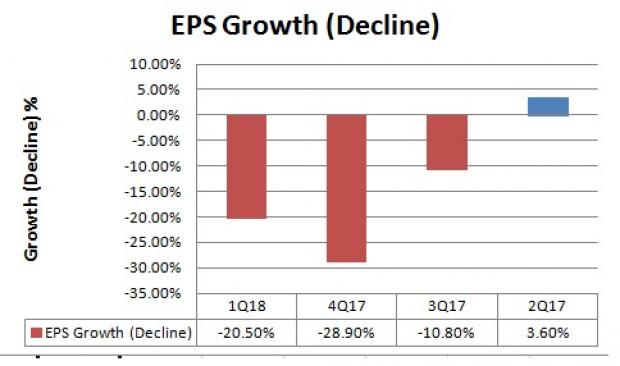 Further, comparable-store sales (comps) fell 4.9% in the last reported quarter, hurt by soft traffic and weakness noted across apparel and equipment businesses.

Well, operating in a consumer-driven space, the company's performance remains a function of several macroeconomic factors, with consumer spending playing a major role. Hence, like all other retailers, Hibbett is also suffering soft store traffic, as consumers have shifted focus toward online shopping. Additionally, the company's seasonal nature of business keeps it highly dependent on weather conditions. Thus, the company is exposed to significant risks if these seasons fail to deliver, as it will dent sales of seasonal goods.

Also, intense competition in the sporting goods space remains a major dampener for Hibbett. Due to the liquidation of Sports Authority and Sports Chalet, retailers such as DICK'S Sporting Goods Inc. DKS and Big 5 Sporting Goods Inc. BGFV have gained in terms of higher sales which is not the case for Hibbett.

Following the first-quarter results, management projected comps growth to range from down 1% to up 1%, while it anticipates the gross margin to contract 55–75 bps. Further, earnings are envisioned to range from $2.35–$2.55 per share, down from its original forecast of $2.65–$2.85 per share. Shares of Hibbett have tumbled 7.6% since its murky first-quarter results and outlook.

How are Estimates Trending?

Just like its shares, Hibbett's estimates have also derailed over the past 60 days. In the said time frame, the Zacks Consensus Estimate for the second quarter and fiscal 2018 has edged down, from 18 to 15 cents and from $2.46 to $2.41, respectively. This reflects analysts' concerns on Hibbett's ongoing performance. Nonetheless, Hibbett's solid strategies signal something else.

Omnichannel Efforts to Drive Top Line?

Hibbett has made significant progress on its strategic growth initiatives. Among the various initiatives, the company implemented its store-to-home capability in first-quarter fiscal 2018, which was well received. The roll-out of this new point-of-sale system will assist Hibbett with efficient business management, by aiding the company locate products in its entire chain and have it delivered to customer's doorsteps.

Encouraged by the response, management anticipates greater benefits from this strategy in future. Additionally, the company introduced a fresh loyalty program in the first quarter, to improve customers' loyalty toward its brand. Also, management is pleased with the progress of its e-Commerce endeavors, and is on track to launch its website in the third quarter. The company expects its e-Commerce launch to enhance the top line in the second half of fiscal 2018.

Final Word

Hibbett is leaving no stone unturned to exploit the digital space and is on track with its store expansion and inventory management initiatives. While the near-term picture appears shrouded, we cannot ignore the endeavors undertaken. That said, we believe that it's best to wait and see if these initiatives can save this Zacks Rank #3 (Hold) stock from derailing further. Until then, investors can count on Five Below, Inc. FIVE, which carries a Zacks Rank #2 (Buy). You can see the complete list of today's Zacks #1 Rank (Strong Buy) stocks here.

With long-term EPS growth rate of 28.5%, Five Below has outperformed earnings estimates consistently over the past four quarters, by an average of 6.3%.

Today's Stocks from Zacks' Hottest Strategies

It's hard to believe, even for us at Zacks. But while the market gained +18.8% from 2016 - Q1 2017, our top stock-picking screens have returned +157.0%, +128.0%, +97.8%, +94.7%, and +90.2% respectively.

And this outperformance has not just been a recent phenomenon. Over the years it has been remarkably consistent. From 2000 - Q1 2017, the composite yearly average gain for these strategies has beaten the market more than 11X over. Maybe even more remarkable is the fact that we're willing to share their latest stocks with you without cost or obligation. See Them Free>>
Want the latest recommendations from Zacks Investment Research? Today, you can download 7 Best Stocks for the Next 30 Days.
Click to get this free report
Big 5 Sporting Goods Corporation (BGFV): Free Stock Analysis Report
Dick's Sporting Goods Inc (DKS): Free Stock Analysis Report
Hibbett Sports, Inc. (HIBB): Free Stock Analysis Report
Five Below, Inc. (FIVE): Free Stock Analysis Report
To read this article on Zacks.com click here.