Apple stock closed down $1.28, or 1.3%, to $96.26, making the darling stock a loser on a day the rest of the market is attempting to find its footing after this week's selloff. The Standard & Poor's is essentially flat.
Investors were hoping the unveiling of a new iPad would reinvigorate excitement over the aging product and get the stock going again. iPad sales have "gone flat (to be generous)" as consumers with iPads figure they're good enough, according to a report to clients titled "New iPads Probably Insufficient to Jumpstart Sales," by tech analyst Steven Milunovich of UBS.
iPad sales are stagnating as consumers tend to keep their tablet computers longer than other products like smartphones. The iPad is getting attacked by lower cost options or more functional tablets that have PC capabilities.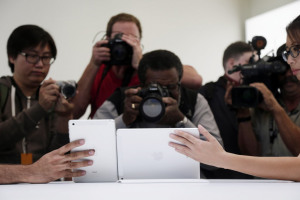 Milunovich suggests the Apple pact with International Business Machines (IBM) to get more iPads into business is likely "insufficient." Instead, Milunovich says Apple might need to consider introducing a 13-inch tablet that is "convertible with multitasking and file management capabilities of taking on PC tasks."
This move would be Apple taking a page from the PC and Microsoft (MSFT). Microsoft's own Surface tablet already allows consumers to enjoy the tablet form factor while still having the power of a full-fledged PC. Other Windows 8 manufacturers including Lenovo, Hewlett-Packard and Dell, too, offer such "convertible" products already.
Apple's failure to impress with the new iPad comes as the stock struggles again after touch $100 a share. Also, this week Intel beat earnings expectations as companies continue to look to the PC — not tablets — and the best way to boost employee productivity.
Milunovich remains bullish on Apple stock with a $115 price target on the stock. But his enthusiasm is centered around other parts of Apple's business, namely the iPhone. Wall Street analysts, on average, are also bullish on Apple with an average 18-month price target of $112 a share, says S&P Capital IQ.