The flagging stock market popped back to life in pre-market trade Monday after a major weekend election development, helping cool feverish volatility.
The Federal Bureau of Investigation's (FBI) announcement Sunday that it had again cleared Democratic nominee Hillary Clinton over her use of a private email server helped send S&P 500 (SPX) futures soaring more than 25 points by early Monday to back above the 2100 mark. The CBOE's VIX, which had climbed above $22 late last week, quickly sank back below $20, and was recently down 13%. In addition, gold prices fell $16 to below $1,300 an ounce.
The market's quick upward swing over the weekend and early Monday after nine straight days of losses offers evidence, if anyone needed it, that the election is front and center as the new week begins. It's likely to be all election all the time the next few days, and investors may want to stay on their toes. Although VIX is down sharply now, it had risen over 70% over the last few weeks. There's a lot of nervousness about the election, both the presidential and Congress components, and the protective instinct appears heightened.
After the winners are announced, investors may want to look for reaction. As assumptions about the new leaders in Washington become apparent, there may be some quick sector rotation. Even after the election is over, the Fed remains in focus, with the probability of a rate hike in December bouncing around 75%, according to the futures market.
Pressure has been pretty constant lately on the SPX, which through Friday had posted its longest losing streak since 1980. Health care, telecom services, and real estate are the weakest-performing sectors over the last month, but the SPX as a whole is down more than 3% in the same period, so the misery is shared.
There's actually stuff on the calendar this coming week besides the big vote. Fed speakers are back in the picture, and plenty of earnings remain to plow through (see below). Also, economic reports could shed further light on the economy after Friday's jobs data. That report showed higher than expected hourly pay growth, perhaps signaling an uptick in wage competition. In sum, the jobs report looked OK. Job growth of 161,000 was below the average analyst expectation of 175,000, but projections were wide amid some concern about possible slower hiring ahead of the election. And the government upwardly revised job growth for the prior two months, another good sign.
Lost in all this may be what's going in crude oil, as it broke below the important $46 a barrel level on Friday but jumped more than 1% early Monday amid renewed talk of a possible OPEC production freeze. Investors might want to watch the SPX correlations with crude and see if oil is the factor that takes the stock market down further or becomes a match to light a late year-end rally.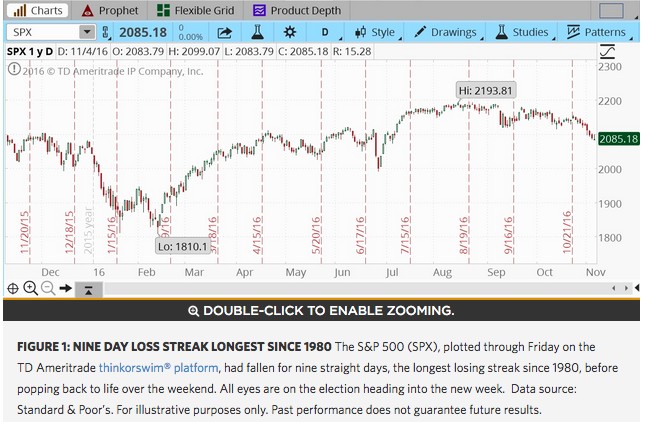 Earnings Surpassing Expectations: The earnings season is trickling to a close, and to date, results have been better than expected. So far, S&P 500 stocks have posted a 2.9% rise in earnings per share for Q3. That may not sound like cause for celebration until one considers that going into earnings, analysts had expected average earnings per share to fall about 1%, according to media reports. Nine of 11 S&P sectors are projected to report EPS growth, led by financials, materials and utilities, according to S&P Global. Consumer discretionary, consumer staples, health care, industrials, real estate and technology are also expected to increase. The energy sector is on pace to record the largest EPS decline, followed by telecom services.
More Big Earnings on Tap: Though the heart of the earnings season is now well behind, that doesn't mean there's nothing to watch this coming week. Each day's schedule is pretty packed, and earnings watchers can get their fix with MGM Resorts International MGM 2.92% before the open Monday; Mylan NV MYL 4.86% after Wednesday's close; Walt Disney Co NYSEDIS after the close Thursday, and J C Penney Company Inc JCP 3.78% before the open Friday.
Economic Data Solidifies: Friday's jobs report was among a number of recent economic reports that appear to show the economy maintaining relatively decent health. ISM, construction spending, and vehicle sales last week all came in pretty solid. This coming week is light on data, but the JOLTS job openings report on Tuesday and wholesale inventories on Wednesday are worth watching.
Thanks, Veterans! One more thing: Friday, Nov. 11 is Veterans Day. Thank a veteran for what they have done for this great country!!!
The following article is from one of our external contributors. It does not represent the opinion of Benzinga and has not been edited.
© 2016 Benzinga.com. Benzinga does not provide investment advice. All rights reserved.