Citigroup (C) stocks as well as many bank stocks have stabilized in 2016. During this month, we are seeing Citi stocks push above some key resistance factors. 

Citigroup (C) daily chart 8/18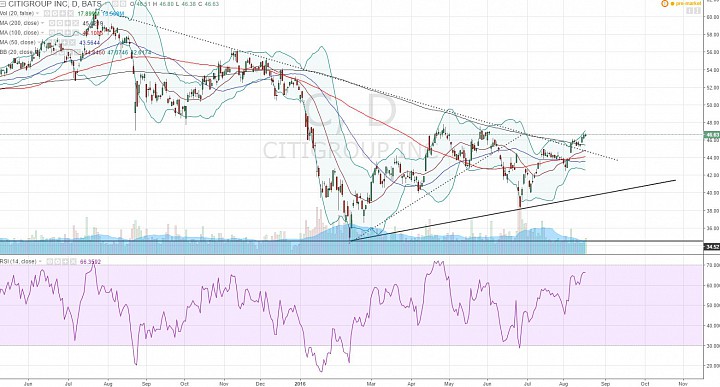 (click to enlarge)

Bullish reversal:
- What can we say about the daily chart? The most important is that it has made a higher low in June versus the February low, which was also the low on the year. 
- Also note that price has broke above the cluster of 200-, 100-, and 50-day simple moving averages (SMAs). If price pulls back down, these SMAs can be a guide for support. 
- Right now, if price pulls back, I would say that 44 is a key pivot that is in the middle of the SMA cluster.
- Furthermore, price broke above a falling trendline going back to 2015's high around 61.
- This week, price extended above 46, giving the breakout more clarity. 
- I think the bullish breakout has the 50 handle in sight. 

Failure:
- If price fails to clear 48 and then falls below 44.00, we would have to shelf the bullish outlook and consider the false breakout scenario. 
- The bearish scenario in the short-term has the 40 handle in sight - this considers a possible ascending triangle pattern in development.