SunEdison (SUNE) is an important position for David Einhorn (Trades, Portfolio) with a 6.8% stake (4% through Greenlight Capital). SunEdison does everything from development and finances, up to installment and operation of solar power plants. It is one of the largest renewable energy companies in the world (market cap of nearly $1 billion) and is headquartered in the U.S.
Last year, it was one of Einhorn's biggest losers as the firm declined over 90% after announcing a controversial deal with Vivint in July 2015. This deal involves a complicated transaction with Vivint and TerraForm Power (TERP). The latter is a company that often buys developed projects from SunEdison. Guru, and now activist shareholder, David Tepper (Trades, Portfolio) has been railing against the deal.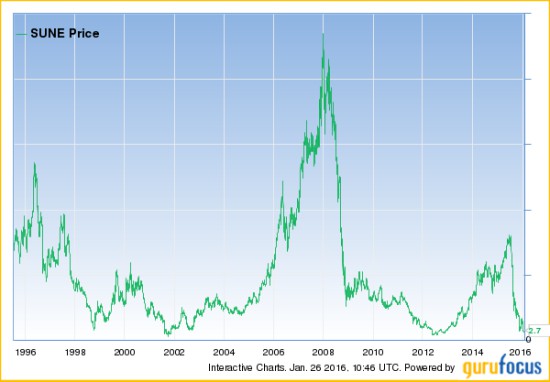 It appears Einhorn is now also fed up with SunEdison's performance. The Wall Street Journal reported the investor has secured a board seat. According to Reuters, Einhorn is now looking to sell the company's assets or even the entire company itself. The latter is somewhat suprising to me as it seems unlikely a sale...
More