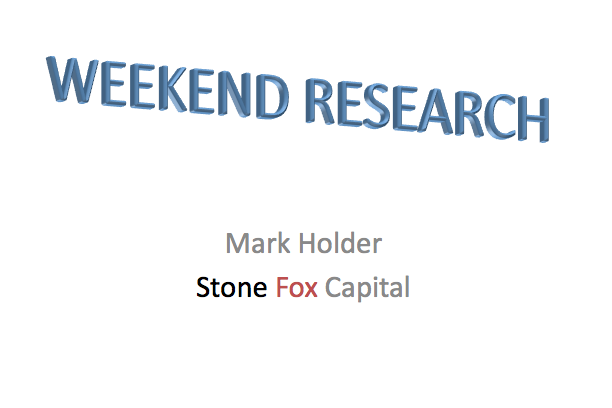 This version of the Weekend Research is late in the weekend, but plenty of time still exists to prepare for the stock market action next week. Plenty of items are on the radar for moving prior to Monday:
Buffett is backing a consortium in a bid for Yahoo (YHOO). This is potentially good news for Verizon Communications (VZ) shareholders that the company won't get stuck with he Yahoo assets. 
Williams Cos (WMB) filed another suit against Energy Transfer Equity (ETE). This time Williams wants to compel the courts to force ETE to complete the merger despite all of the attempts by CEO Kelcy Warren to duck out of the merger without a restructuring. No signs exist that Williams' shareholders are better off owing the junior security, ETC, so all signs point to forcing ETE to pay a fee to void the deal. In that case, Williams is a buy. Avoid both ETE and Williams if the deal heads towards closing. 
With all of the stocks whacked by earnings listed in last weekends edition, LendingClub (LC) tops the list. The stock lost 50% of its value last week based on the CEOs resignation prior to the Q1 earnings release leading to fears of lost institutional investors on the lending platform going forward. The stock is trading towards cash value and the negative news flow could peak soon. 
Square (SQ) was highlighted as a stock to buy at the end of last week. The lockup expiration takes place on Monday causing pressure on the stock until the minor rebound on Friday. The stock is appealing below $10. 
All of these stocks could move next week with LendingClub and Square definitely expecting high volatility 
Disclosure: No position