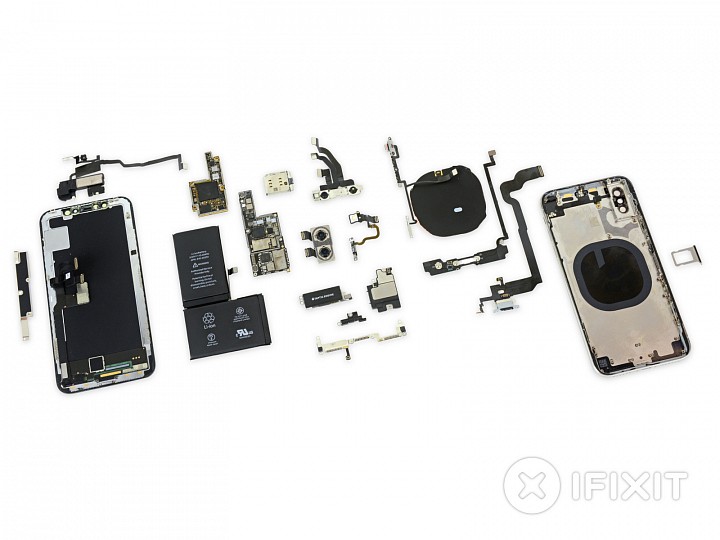 If it's a cause for celebration, someone forgot to tell these stocks: they're trading rather mixed, with no big gains. Qorvo is off 3%, Skyworks is up fractionally, TI shares, too. Cirrus is down 2%, and Broadcom (AVGO) is up 2%, perhaps in part because it plans to "re-domicile" to the U.S.; and NXP Semiconductors (NXPI) is up fractionally.
Tech Insights and iFixit, among others, have had their fun with the thing.
Both Tech Insights, in their post, and iFixit, note the presence of two separate batteries, for acombined total of 5,432 milli-amp hours.
In addition, Tech Insights notes in its post that the company has managed some impressive squeezing of the dual logic boards, using a technique called an "SLP":
Here in the cross section images we see evidence of this adoption of SLPs. SLPs are very high density substrates. They will employ conductors down to 10 um or 15 um in width. SLPs also make use of microvias that can be blind or buried in diameters down to 10 or 15 um.
Among the big conclusions by iFixit's Kyle Wiens and the team, the iPhone X gets a score of six out of ten in terms of repairability, with some ability to replace the screen and the battery, but problems with other issues. That picture at the top of this post is curtesy of Wiens and company. Thank you!
The iFixit write up reveals parts from Texas Instruments, an NXP "NFC" module, and ST Micro, a Skyworks power amplifier, and Broadcom touch controller, as well as power amplifier, Toshiba (6502JP) NAND memory chips, a Cirrus Logic audio part,
Oppenheimer & Co.'s Rick Schafer this morning issued an upbeat note on the suppliers, writing that the delays in the iPhone X could "fuel upside to normal December and March quarter seasonality."
His "top picks" are "content-driven growth stories," writes Schafer, including Broadcom and Skyworks.
"We remain on the sidelines on CRUS and QRVO given lack of a near-term content expansion story in the case of CRUS and company-specific headwinds at QRVO."
See also my colleague Adam Routh's write-up of Bernstein's reflections on Asia supplier names such as Largan Precision.
More