The unlimited data plan war persists in the domestic wireless market. Reportedly, T-Mobile US Inc. TMUS is increasing data caps on its unlimited data plans, from 32GB to 50GB, effective Sep 20. This implies that T-Mobile US' subscribers will be able to use at least 50GB of data on their unlimited data plans before risking slowdowns in congested areas.
With this recent offer, the company's data plans surpass those of its competitors, since Verizon Communications Inc. VZ and AT&T Inc. T offer 22GB caps for unlimited data. Sprint Corp. S, on the other hand, offers data caps of 23GB. Notably, T-Mobile US is essentially offering more than double the data on its unlimited data plans.
What is Data Cap?
Data caps are usually imposed as a maximum allowed amount of data in a month for an agreed-upon charge. As a rule, when the user exceeds that limit, they are charged at a higher rate for further data use. However, the provider may not charge overage but instead throttle the customer's transfer rate per second beyond the limit. For example, a mobile user paying for a 4G plan may be downgraded to 3G for mobile data beyond their data cap.
Data caps result in lower rates of access to online materials, especially multimedia and streaming content, which is a problem for content creators and their advertisers. T-Mobile US recently reported that users with capped or throttled data used 20-30 times less data and 37% of subscribers avoided streaming media because they were afraid to exceed their limits.

Data caps are also uniformly unpopular with customers. As a result, service providers often refer to data caps by other names such as fair usage or fair access policies, usage-based billing or vaguely as band caps.
T-Mobile US' Latest Postpaid Offers
T-Mobile US is making its unlimited postpaid wireless service, T-Mobile ONE, more attractive with the inclusion of services from online video streaming service provider, Netflix Inc. NFLX.
Effective Sep 12, customers with at least two lines on T-Mobile US' One family plan will be able to activate a standard Netflix subscription with no extra charges along with unlimited data for just $40 per line for a family of four (inclusive of all taxes and fees). The offer is open to both existing and new customers. Subscribers who already have a Netflix account can avail this offer as well. For customers that already have Netflix accounts, T-Mobile US has promised to cover the cost of subscription — a deal worth $120 every year. The promotion is part of what the company calls its "Un-carrier" strategy, which is an effort to challenge mobile carrier conventions.
T-Mobile US' Latest Additional Offers
Last month, T-Mobile US launched promotional offers for two new LG handsets, G6 and V20. The operator launched buy-one, get-one-free deals on both handsets for users who buy phones on T-Mobile US' equipment installment plans. Customers who add a line will receive a rebate in the form of a prepaid MasterCard of up to $500. The LG G6 handset is priced at $500, while the V20 carries a $480 price tag through T-Mobile.
Prior to this, T-Mobile US had unveiled its first branded smartphone, the REVVL and promoted more models on its JUMP! On Demand handset leasing programme. Accompanying the phone's launch, the company has also adjusted its JUMP! On Demand. T-Mobile US is marketing it as an affordable option because it'll only cost $5 a month with no down payment through the company's Jump! On Demand service, or $125 up front.
Zacks Rank and Price Performance
T-Mobile US currently carries a Zacks Rank #3 (Hold). You can see the complete list of today's Zacks #1 Rank (Strong Buy) stocks here.
The company's price performance has been impressive. On a year-to-date basis, shares of T-Mobile US have increased 10.4% as compared with the industry's decline of 7.8%.
However, when compared with the market at large, the stock's performance looks miserable, as the S&P 500 index has rallied 11.8%, over the same time span.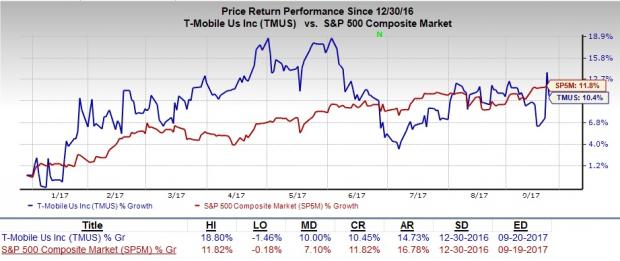 Will You Make a Fortune on the Shift to Electric Cars?
Here's another stock idea to consider. Much like petroleum 150 years ago, lithium power may soon shake the world, creating millionaires and reshaping geo-politics. Soon electric vehicles (EVs) may be cheaper than gas guzzlers. Some are already reaching 265 miles on a single charge.

With battery prices plummeting and charging stations set to multiply, one company stands out as the #1 stock to buy according to Zacks research.
It's not the one you think.
Want the latest recommendations from Zacks Investment Research? Today, you can download 7 Best Stocks for the Next 30 Days.
Click to get this free report
Netflix, Inc. (NFLX): Free Stock Analysis Report
AT&T Inc. (T): Free Stock Analysis Report
Sprint Corporation (S): Free Stock Analysis Report
Verizon Communications Inc. (VZ): Free Stock Analysis Report
T-Mobile US, Inc. (TMUS): Free Stock Analysis Report
To read this article on Zacks.com click here.