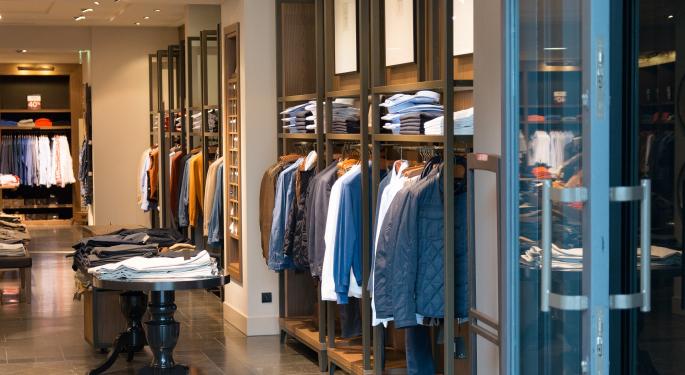 Long investors in the SPDR S&P Retail ETF XRT have had a tough week to close out the Q1 earnings season. The ETF is down about 5 percent over the week, its lowest level in months.
A portion of that weakness has been related to disappointing results out of the department store group.
Below is a review of individual performance within the sector:
Beat on earnings, missed on sales and reduced FY16 adjusted earnings from $3.80-$3.90 to $3.15-$3.40 per share. A bright spot: Macy's raised its quarterly dividend ahead of schedule, from $0.36 to $0.3775 per share.
Morgan Stanley highlighted the quarterly report as the worst since the recession as possibly signaling a "tough road ahead."
The stock fell 17 percent since the report.
Missed both Q1 earnings and sales: earnings of $0.31 per share compared to an analyst estimate of $0.37 on sales of $3.97 billion vs. $4.1 billion analyst estimates.
Kohl's shares fell 9 percent over the course of the week.
In addition to missing on both the top and bottom lines, Nordstrom reduced FY16 EPS guidance from $3.10-$3.35 to $2.50-$2.70 and sales growth guidance from 3.5 percent-5.5 percent to 2.5 percent-4.5 percent.
Shares of Nordstrom have been among the hardest hit, down 18 percent since the report.
Reported quarterly earnings of $2.17 on sales of $1.5 billion. Analysts had been looking for EPS of $2.52 on sales of $1.56 billion.
The stock has fallen 7 percent on the heels of the report.
Although a better-than-expected loss of $0.32 per share, sales of $2.81 billion missed the mark which was set at about $2.92 billion.
Shares traded down nearly 12 percent Friday morning.
The last left to report, Sears is expected to issue quarterly results on May 26.
© 2016 Benzinga.com. Benzinga does not provide investment advice. All rights reserved.