Rockwell Automation Inc. ROK is the world's largest company dedicated to industrial automation. Its products, services and solutions address a broad range of challenges in every major industrial sector, from automotive and tire to mining and oil and gas, from pharmaceuticals to food and beverage. Its brands include Allen-Bradley, Reliance Electric and Rockwell Software.

Rockwell's growth and performance strategy seeks to achieve growth rates in excess of the automation market by expanding its served market, diversifying sales streams by broadening portfolio of products, solutions and services, expanding its global presence, growing market share and making acquisitions. Heavy industry end markets including oil and gas have not yet stabilized, and Rockwell Automation foresees continued softness in key emerging markets. In the U.S., its largest market, a strong dollar is adversely affecting producers and OEMs. Moreover, weakness in the mining industry and lack of major projects also remain concerns.

Investors have thus been eagerly awaiting the company's fiscal 2017 fourth quarter earnings report. Let's have a quick look at the earnings release of this Milwaukee, WI-based provider industrial automation power, control, and information solutions.

Estimate Trend & Surprise History: The earnings estimate revisions for Rockwell Automation has been stable over the last 7 days. The Zacks Consensus Estimate for the fourth quarter of fiscal 2017 currently stands at $1.72. As regards earnings surprise, Rockwell Automation has an impressive surprise history and outpaced the Zacks Consensus Estimate in all of the past four quarters, with an average beat of 10.02%.
Rockwell Automation, Inc. Price and EPS Surprise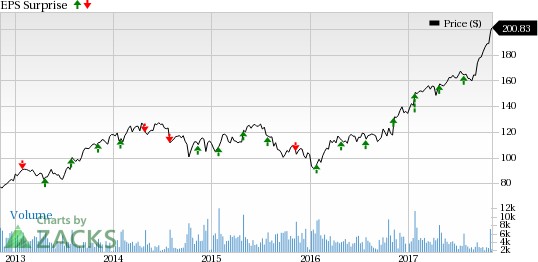 Rockwell Automation, Inc. Price and EPS Surprise | Rockwell Automation, Inc. Quote
Earnings: Rockwell Automation missed estimates by a margin of 1.7%. Our consensus called for fourth quarter fiscal 2017 EPS of $1.72, while the company reported adjusted EPS of $1.69.

Revenue: Rockwell Automation beat on the revenue front. It reported fourth quarter fiscal 2017 revenues of $1.67 billion, ahead of the Zacks Consensus Estimate of $1.66 billion.

Key Developments to Note: Rockwell Automation provided its fiscal 2018 guidance. For 2018, the company expects adjusted EPS in the range of $7.20-$7.50 and reported sales growth in the range of 5%-8%. Rockwell Automation expects heavy industries to grow a bit above the company average, with solid contribution from oil and gas. The company also expects growth in consumer and transportation sectors.

Zacks Rank: Currently, Rockwell Automation has a Zacks Rank #2 (Buy). However, since the latest earnings performance is yet to be reflected in the estimate revisions, the rank is subject to change.

Market Reaction: Rockwell Automation's shares were inactive following the release. It would be interesting to see how the market reacts to the results during the trading session today.

Check back later for our full write up on this Rockwell Automation earnings report later!

Wall Street's Next Amazon

Zacks EVP Kevin Matras believes this familiar stock has only just begun its climb to become one of the greatest investments of all time. It's a once-in-a-generation opportunity to invest in pure genius.

Click for details >>


Want the latest recommendations from Zacks Investment Research? Today, you can download 7 Best Stocks for the Next 30 Days.
Click to get this free report
Rockwell Automation, Inc. (ROK): Free Stock Analysis Report
To read this article on Zacks.com click here.
Zacks Investment Research