Summary
PSX's midstream business will deliver better ROCE once the Sweeny Fractionator One and Freeport LNG projects are complete due to increasing natural gas consumption and an uptick in LNG exports.
PSX has a $20 billion backlog for its midstream projects, which will help it achieve $2.3 billion EBITDA in 2018 as compared to 2Q15 run rate EBITDA of $0.3 billion.
PSX's chemical business, which generated 21% ROCE in 1H15, will get better in the long run as it is investing in facilities to expand the olefins & polyolefins businesses.
PSX has a robust cash flow profile that will allow it to fund its expansion plans without taking on any additional debt, allowing it to keep a tab on interest.
Phillips 66 (NYSE:PSX) is one of the rare stocks in the oil and gas industry that have actually appreciated on the stock market so far this year. The oil and gas logistics and refining company has seen a 12% appreciation in its stock price so far this year, which might surprise a few given the turmoil in the oil and gas markets. However, a closer look at Phillips 66's operations will make it clear why the company delivered 17% year-over-year growth in its net income last quarter despite a steep drop in revenue.
More specifically, Phillips 66's operations are diversified into four segments -- Midstream, Chemicals, Refining, and Marketing and Specialties. The important part is that all these four businesses have been generating positive returns on capital employed in 2015. Additionally, Phillips 66 has also increased focus on high margin businesses such as Marketing and Specialties and chemicals, which will help it offset the weakness in any other segment.
In this article, we will take a look at the reasons why investors should continue holding Phillips 66 shares for the long run.
Midstream will be a long-term driver
Phillips 66 has generated 5% returns on capital employed from the midstream business in the first half of the year. This is impressive in light of the current demand and pricing scenario in the end market. But, the good thing is that Phillips 66 will be able to increase its rate of return from this segment as the company is on track to complete two projects going forward.
For instance, the company's Sweeny Fractionator One project is already 90% complete, and Phillips 66 expects the project to get completed in the fall. Meanwhile, the Freeport LPG export terminal is about 50% complete and is expected to go online in the second half of next year. More importantly, both these projects are proceeding as per budget and schedule. Now, once these two projects go online, Phillips 66 will be able to enhance the storage and transportation business.
For instance, the Sweeny Fractionator One, which is expected to go online in the ongoing quarter, will help Phillips 66 supply natural gas liquids to the heating and petrochemical markets, apart from bolstering its propane exporting capabilities. This is a good move by Phillips 66 as the project will come online just before the winter season when the demand for heating will increase. Since the use of natural gas to generate electricity has been increasing, Phillips 66 will see an improvement in the midstream business.
This is because natural gas consumption for electricity is slated to increase 14.4% this year, and the trend will continue as the switching from coal to gas continues in the long run. Meanwhile, the usage of natural gas in the industrial sector is also increasing. According to the EIA, industrial sector consumption of natural gas will increase 0.9% this year and 6.4% in 2016, leading to an increase in Phillips 66's addressable market.
On the other hand, the Freeport LPG export terminal will prove to be another growth driver for the company as LNG exports from the U.S. gain momentum. For instance, the Energy Secretary, Ernest Moniz sees that the export of LNG from the U.S. will rise to the level of Qatar, which exports more than 100 billion cubic meters of LNG annually, by 2020. This looks like an ambitious target, but since the need for LNG is expected to grow on a global basis, the U.S. will be able to export more LNG once Phillips 66's terminal comes online.
The following chart shows the expected increase in demand for LNG going forward: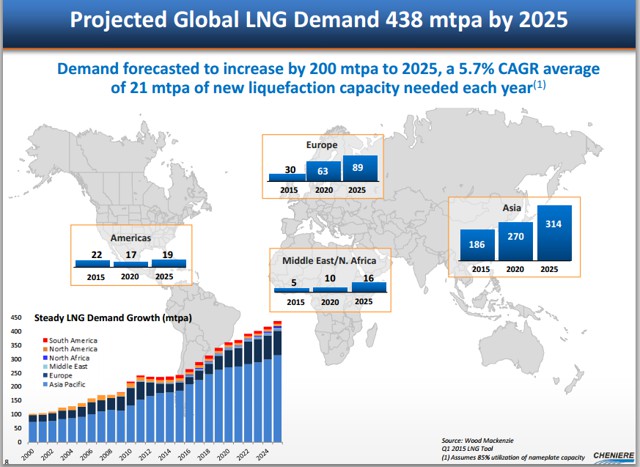 Source: Cheniere Energy presentation
Thus, Phillips 66 is making the right move by tapping this market with its Freeport export terminal. Now, given the opportunity in the end market, it is not surprising to see why the company sees robust growth in its EBITDA through these projects. It expects its EBITDA from the midstream business to increase to $2.3 billion in 2018, and it seems to be on track to achieve this as it already has a project backlog of $20 billion in this segment, as shown below: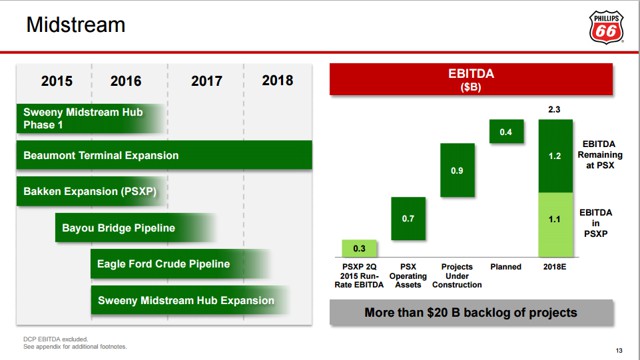 Source: Phillips 66 presentation
Focus on high margin businesses will be another driver
It is not surprising to see that Phillips 66 is concentrating on the midstream business aggressively as this segment helps it generate decent returns on capital employed that could increase going forward. Additionally, Phillips 66 is also focusing on those businesses that generate strong returns with less capital employed.
In fact, its collective return on capital employed was 13% last quarter from different segments such as M&S, Chemicals, midstream, and refining. In fact, it saw a few of its business such as M&S and chemicals generate higher returns on capital employed of 25% and 21%, respectively, as seen in the chart below, in the first half of the year.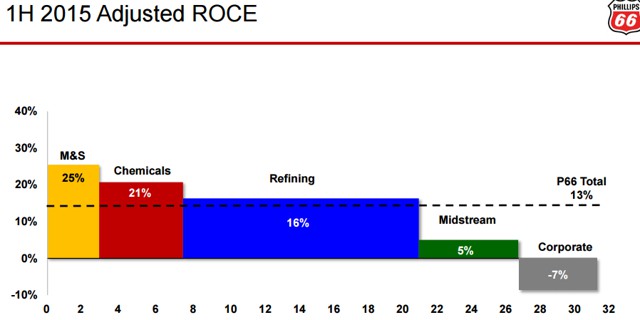 Source: Phillips 66 presentation
Looking ahead, the chemicals business will continue contributing to Phillips 66's growth as the company is expanding its Cedar Bayou facility, while the construction of the CPChem Gulf Coast petrochemicals project is now half complete. This is expected to go online in mid-2017, and will play a key role in expanding Phillips 66's olefins & polyolefins businesses.
Driven by its focus on these high margin businesses, Phillips 66 has been able to put in a strong cash flow performance in the past few quarters. For instance, at the end of the second quarter, the company had $3.4 billion in free cash flow, which will allow Phillips 66 to invest in its midstream business without taking any additional debt.
Conclusion
In my opinion, Phillips 66 is a company that investors should hold for the long run as it is taking the right steps to improve cash flow and returns. Additionally, the company has sound fundamentals as its combined cash and operating cash flow position of approximately $9.2 billion is slightly greater than its debt of $8.96 billion.
Now, since Phillips 66 plans to fund its growth using the cash flow that it generates, the company should be able to keep its debt under control. Thus, all in all, Phillips 66 looks like a good investment from different viewpoints, which is why investors should remain invested in it for the long run.
More