I opine that Autodesk is not a good investment right now.
Autodesk's lucrative CAD software products are no longer as dominant as they used to be. Technical designers and architects are now using free or cheap alternatives to AutoCAD.
The new subscription-based business model is still prohibitively expensive. It will not help reduce the rampant use of pirated copies of AutoCAD products.
It is my strong opinion that Autodesk (NASDAQ:ADSK) is a bad investment candidate right now. The high valuation of this software sales-dependent company is dangerous considering that AutoCAD products are no longer as dominant as they used to be. The chart below should be a loud warning that ADSK is a dangerous bet.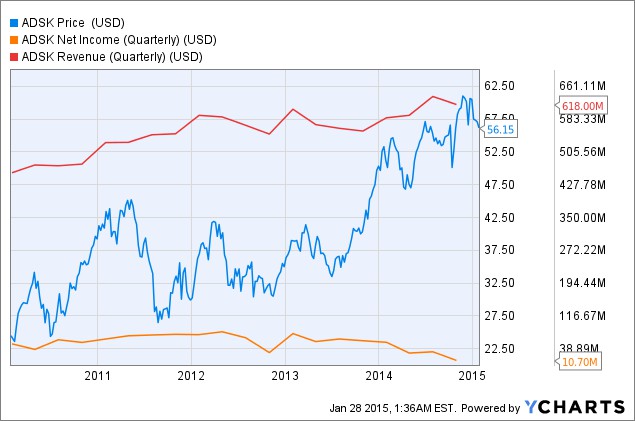 ADSK's average stock price went up consistently despite the company's declining net income performance since Q1 2013. This aberration will not last forever. A market correction might eventually happen once more investors realize that Autodesk's stock price is not in line with the company's declining profitability trend.
The charts below are based on Autodesk's Q3 earnings report.
Source: CSI Market
The CAD/CAM industry is full of hungry rivals that are slowly eating into Autodesk's profit margins. While Autodesk can keep increasing its sales, other CAD/CAM software vendors are growing faster in terms of revenue and net income growth.
There are dozens of firms that are not included in Yahoo Finance's chart of competitors of Autodesk.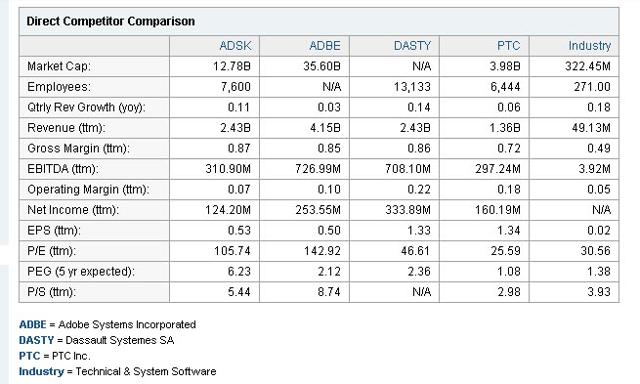 Source: Yahoo Finance
Consequently, the crowded-space nature of the CAD/CAM software industry is probably one major reason why Alpha Omega Mathematica rates ADSK as a Sell.
The company's growth prospect is heavily handicapped by the presence of cheaper alternative products. Autodesk's fundamental numbers are just terrible when compared to its sector and industry peers.
Please study the charts below.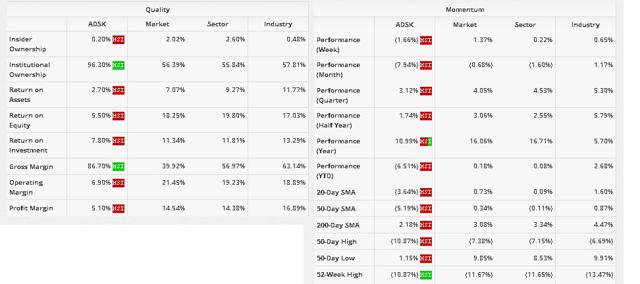 ADSK is still trading at a very high P/E valuation in spite of its poor quality and growth performance indicators.
I am building a house for my five younger brothers and the 74-year old architect who did the architectural/structural plan informed me that he used DraftSight Professional instead of AutoCAD.
This issue came up because I requested that he should also provide me an AutoCAD file together with the six blueprint copies he gave me. It is a big surprise because in my younger years (1998 to 2010), AutoCAD was the de facto standard among Filipino architects, engineers...
More