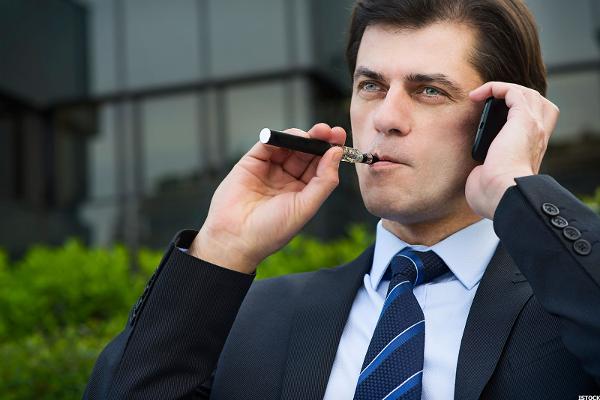 There is a new entry to the lexicon of hipster jargon: "vape."
It means inhaling and exhaling the vapor created by an e-cigarette, a battery-powered device that heats liquid nicotine in a disposable cartridge. E-cigs are all the rage, and they pose a challenge to traditional cigarette makers.
They also offer a huge multi-year growth opportunity for investors.
The stock that benefits the most from the vaping craze is Philip Morris International (PM - Get Report) , which makes and markets cigarettes and other nicotine-containing products around the world. This year, in addition to double-digit capital appreciation, the stock also offers a high and sustainable dividend.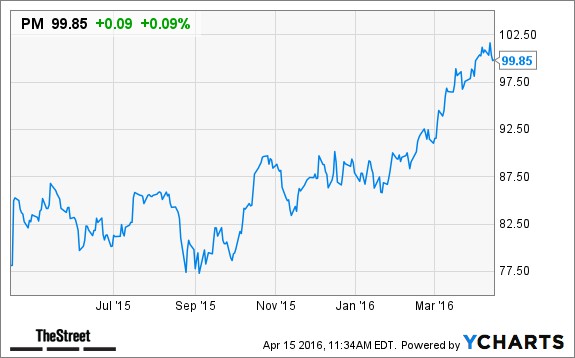 Philip Morris is scheduled to report first-quarter earnings before the market opens on Tuesday.
Must Read: This Is the Only Stock to Buy Right Now to Profit From Legalized Weed
The analyst consensus is for the company's earnings to come in at $1.11 a share, compared with $1.16 a year earlier. This ostensibly modest earnings performance would actually show that Philip Morris is weathering headwinds such as a strong dollar and sluggish European economies.
E-cig revenue is showing gains not seen by the tobacco industry since the halcyon days of the 1950s and 1960s, when the "Don Drapers" of the era chain-smoked almost anywhere they wanted.
E-cigs got a big boost this week, amid new reports that their use continued to rise last year among teenagers and preteens in the United States. But at the same time, the data assuaged concerns that e-cigs are serving as a gateway to hook kids on traditional cigarettes, which are more harmful.
Vaping also is trendy with the millennial demographic sought by consumer brand companies, especially as younger people reject traditional cigarette smoking in droves. The upshot: a new generation of users is rapidly adopting e-cigs, which puts the devices onto a long-term growth...
More