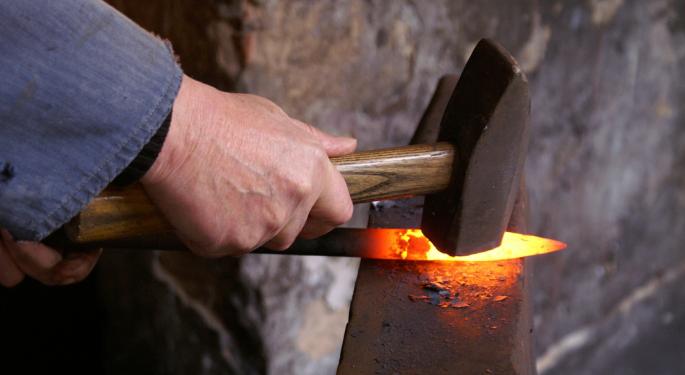 Wall Street got even more bullish on steel stocks on Tuesday when Morgan Stanley analyst Evan Kurtz recommended traders take the opportunity to buy a handful a steel stocks ahead of earnings season.
Kurtz's bullish note came after Morgan Stanley analysts met with steel and scrap buyers, traders and processors last week to discuss the outlook for the industry. According to Kurtz, U.S. steel prices will likely be on the rise in the second half of the year.
"The key takeaways were that imports are likely to dip significantly in September/October since traders don't want to take the risk of being an 'importer of record' with the threat of Section 232 penalties," Kurtz wrote.
Related Link: Citi Previews Steel Sector Earnings, Says US Steel May Outperform
President Trump has ordered an investigation into the potential risk that U.S. steel imports pose to national security, the groundwork for him potentially using his Section 232 powers to restrict steel imports.
In light of the potential upcoming catalyst for domestic steel, Morgan Stanley has raised its forecast for hot rolled steel by about $55/st to around $625/st.
Looking ahead to earnings season, Kurtz expects traders will be watching United States Steel Corporation X 0.04% and AK Steel Holding Corporation AKS 1.93% closest since they haven't provided updated Q2 guidance recently. For U.S. Steel, the critical issue will be whether or not Q1 headwinds carried over into the second quarter. For AK Steel, investors will be watching to see whether or not the company's second have auto forecasts are adjusted to account for end-market weakness.
Headed into earnings season, Morgan Stanley has Overweight ratings on the following metals & mining stocks:
| Date | Firm | Action | From | To |
| --- | --- | --- | --- | --- |
| Jun 2017 | Deutsche Bank | Upgrades | Hold | Buy |
| Jun 2017 | Longbow Research | Upgrades | Neutral | Buy |
| Jun 2017 | Standpoint Research | Upgrades | Hold | Buy |
© 2017 Benzinga.com. Benzinga does not provide investment advice. All rights reserved.
Source