Over the course of the last several days, it's become increasingly clear that an explosion was the likely cause of the disaster that caused a Russian passenger plane to abruptly stall and then plummet to the ground at 300 miles per hour last weekend over the Sinai Peninsula. 
Initially, "experts" dismissed Islamic State's claims that the plane was "destroyed" by terrorists, noting that it was extremely unlikely that IS Sinai possessed the technology and/or the expertise to down a plane flying at cruising altitude. 
But the odd thing about all of the official denials is that it was never entirely clear that ISIS was claiming to have shot the plane down. Indeed, the video - real or fake - doesn't depict a missile strike and in a "statement" released on Wednesday, the group explained that it's under no obligation to reveal precisely how it downed the aircraft. Instead, they simply challenged the world to prove a negative (i.e. "prove we didn't down it") and told Russia to "die in your rage."
Meanwhile, the home office in Raqqa aired a bizarre clip of ISIS militants handing out candy from a bowl, apparently in celebration of their Egyptian brothers' "achievements".  The video then cuts to five guys sitting in the front yard threatening Vladimir Putin with a bowie knife.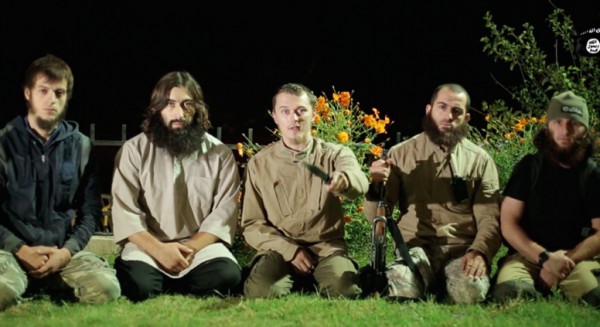 Well, as surreal as all of this most certainly is, both the US and the UK ultimately admitted that ISIS likely did bring down the jet. Both London and Washington cited their own "intelligence" sources on the way to speculating that a bomb was on board.
"Forensic experts" in Egypt corroborated that assessment, noting that when you see body parts scattered in an 8 kilometer radius, something probably exploded. This led directly to a decision by the UK to suspend air traffic from Sharm el-Sheikh and now, Vladimir Putin has suspended flights to Egypt. Here's AP with more:
Russian President Vladimir Putin agreed to suspend all Russian flights to Egypt on Friday after a recommendation by his chief of intelligence for a halt until the cause of last week's crash of a passenger jet in the Sinai Peninsula is determined, as an official said pieces of wreckage from the plane had been brought to Moscow to test for possible traces of explosives.

 

The suspension came after several days of statements by British and American officials that it was possible a bomb on board had brought down the Russia carrier Metrojet's Airbus A321-200, which crashed 23 minutes after takeoff from the Sinai resort of Sharm el-Sheikh, killing all 224 people on board. Russian and Egyptian officials had bristled at the statements, saying it was too soon to tell the cause.

 

The suspension, covering all of Egypt, is even more sweeping than that imposed by Britain, which had halted flights to Sharm el-Sheikh only.

 

"I think it will be reasonable to suspend all Russian flights to Egypt until we determine the real reasons of what happened," intelligence chief Alexander Bortnikov Bortnikov said in televised comments. "It concerns tourist flights most of all."
Meanwhile, British tourists are literally trapped at Sharm el-Sheikh. Back to AP:
The development is likely to hinder Britain's attempts to smoothly bring back the estimated 20,000 U.K. nationals in Sharm el-Sheikh. Transport Secretary Patrick McLoughlin said earlier Friday that "most of the people who were expecting to be home by tonight will be home by tonight."

 

Tempers ran high among the crowds of tourists in the airport departure lounge. When U.K. Ambassador John Casson appeared to reassure them, one irate British tourist who had waited at the airport since early morning hours, harangued him with angry shouts of: "When are we going home?"

 

Inside the crowded airport, British tourists said they were just anxious to get home.

 

"We were in the first flights that were cancelled Wednesday night, we were already queuing to board," said Amy Johnson, a 27-year-old British administrative assistant hoping to catch one of easyJet flights out.

 

Standing in a crush of people waiting to pass through security, Terrance Mathurian, a British builder vacationing with his family, said hotel staff told them in the morning to head to the airport, following conflicting information.

 

The British Department for Transport said travelers should not leave for the Sharm el-Sheikh airport unless they have a confirmed flight and asked for "people's patience at this difficult time."

 

Meanwhile, Dutch carrier KLM announced it instructed its passengers leaving from the Egyptian capital of Cairo that they can only take hand luggage on the plane departing Friday. A statement on KLM's website says the measure is "based on national and international information and out of precaution."
Right. So essentially, everyone is now convinced that this wasn't the result of some decade-old, faulty tail strike repair and more likely occurred because (gasp) someone detonated something on board. 
Once again, the irony of IS Siani's contention that the world must prove a negative is that officials must indeed attempt to do so in order to ensure that whatever happened to Metrojet's Airbus A321-200 doesn't happen again. 
Of course militants concerned that revealing the method to their proverbial madness may impair subsequent efforts to attack commercial flights needn't worry. Even if the world figures out how IS Sinai "downed" this particular Russian passenger plane, the CIA and the Saudis are more than willing to send MANPADS to rebels in Syria.