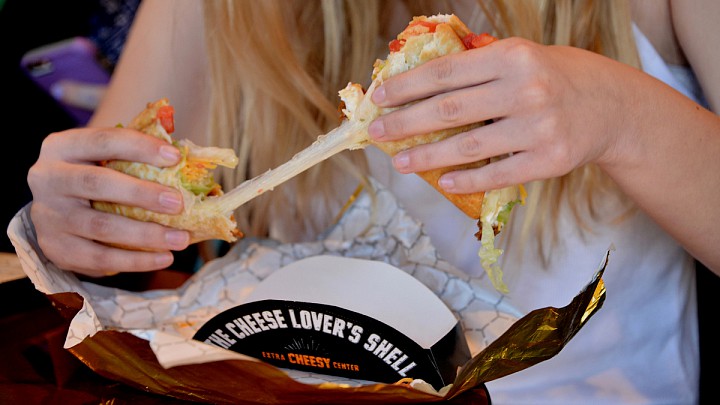 A cheese lover on Twitter expressed less than complete satisfaction with the Quesalupa, Taco Bell's newest and cheesiest menu item. The company's social-media team was on it.
"Dear @tacobell, Why can't the quesalupa be as cheesy as your commercials? Sincerely, A customer who would marry cheese," the tweet read.
The tweet popped up on one of the dozen wall-hung screens that employees monitor in the "Fishbowl" at Taco Bell headquarters in Irvine, California.
Matt Prince swooped in. As head of the 15-person "newsroom" team, it's his job to defend and protect what Taco Bell calls The Cheese Pull -- the taffy-like web of pepper jack created by pulling apart a Quesalupa. A snag like the one described in the tweet might trigger an e-mail to one of the 6,500 Taco Bell restaurants, reminding staff not to overcook the tortilla or allow the shells to lie around too long after they've been fried in canola oil. Taco Bell spent two years perfecting the technique after a decade of noodling with "the cheese-pully thing," said Liz Matthews, chief food innovation and beverage officer, and it's betting its future on plenty of cheesy elasticity for maximum customer goo.
Be Amazing
"It's got to have an amazing, delicious cheese pull in every bite," Matthews said in an interview in the company's international test kitchen this month.
It's hard to overstate the importance of The Cheese Pull to Taco Bell and its parent company, Yum! Brands Inc., which has a $33 billion market value and more than $13 billion in revenue last year. With Yum planning to spin off its China unit and growth otherwise slowing at Taco Bell's siblings, KFC and Pizza Hut, it's come down to this: The near-term performance of Yum depends on Taco Bell, and the performance of Taco Bell rests on The Cheese Pull.
"The strongest...
More