Google's shares will reach $700 by 11.22.2015

23 october 2015
Google (GOOGL), an owner of the most-used web search engine, released a strong financial report for Q3 2015. Consolidated revenue increased 13.0% y-o-y to USD 18.68 bn, outpacing the consensus by 1%. Google's advertising revenues, rising 16.0% y-o-y to USD 13.1 bn, became a revenue growth driver. Taking into account devaluation effects, revenue jumped 21% y-o-y. Adjusted operating profit was up 14.6% y-o-y to USD 6.14 bn, while operating margin spiked 32.9% vs. 32.4% a year ago. Adjusted EPS soared 17.6% to USD 7.35, outpacing expectations by 2%. The company generated free cash flow of USD 3.63 bn, as a result, net cash position (including market securities on the balance sheet) rose to USD 72.77 bn (+17% y-o-y). A significant cash position allowed the company to start a buyback program. The Board of Directors announced a share buyback program totaling USD 5.1 bn for the first time in the company's history. Google also announced a new paid service YouTube Red, which is analogous to Netflix and may even compete with the later. A subscription fee of USD 10 will be close to the Netflix's fee.
The company undergoes restructuring and rebranding now. The new company will be called Alphabet Inc. and will be Google's parent company. Restructuring is expected to be completed by end Q415.
Generally speaking, we are upbeat about the fundamentals of Google. The company is investing heavily in the rollout of new services, diversifying its activities, seeking new growth points, monetizing its business (primarily mobile) and aggressively expanding its international segment. These factors will boost the company's revenue in the coming years.
We raised our target price for Google shares to USD 750 and believe that the name provides an attractive mid-term investment opportunity. The short-term technical target is USD 700.
<!== INSTRUMENT %% %1440% ==!>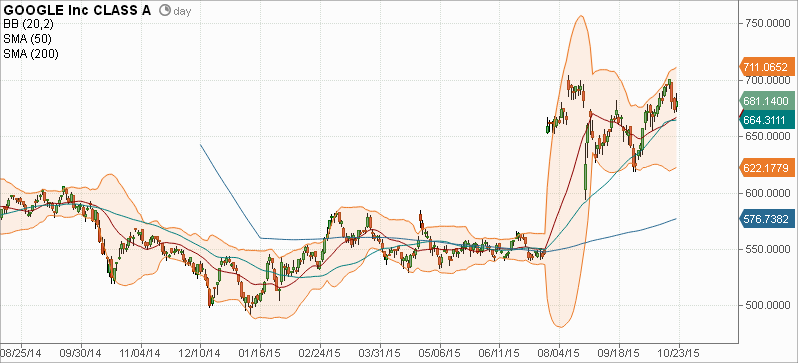 Voting is over
Waiting for


the right answer