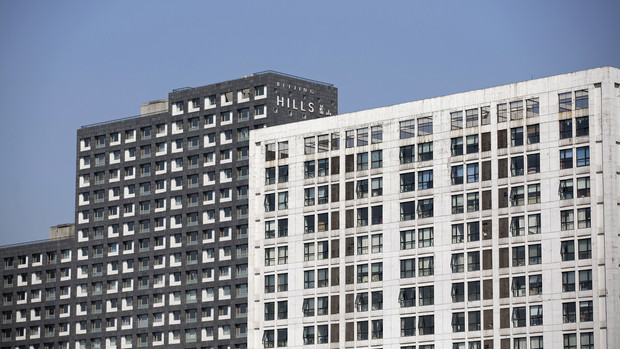 Photographer: Brent Lewin/Bloomberg
The Beijing Hills residential development by China Vanke Co. stands in Beijing
China's benchmark stock index rose to a 19-month high, led by property developers, after policy makers eased real-estate curbs for the first time since the global financial crisis.
China Vanke Co. (000002) andPoly Real Estate Group Co., the biggest developers, advanced at least 2.8 percent after the nation's central bank said last week it was allowing a broader range of home buyers access to lower down payments and mortgage rates. Yunnan Baiyao Group Co. drove a rally for drugmakers with a 10 percent advance. Jiangxi Copper Co. and PetroChina Co. declined both 2 percent in Hong Kong after the International Monetary Fund cut its world growth outlook.
The Shanghai Composite Index (SHCOMP) climbed 0.8 percent to 2,382.79 at the close, spured by a 1.7 percent jump in a gauge of property stocks. Mainland markets were shut over the past week for the National Day holidays after the benchmark index posted a 15 percent gain last quarter.
"The property market will pick up in the fourth quarter as the policy is kind of all-out easing and very positive for the whole industry," said Wang Weijun, a strategist at Zheshang Securities Co. inShanghai. "The market may consolidate at the current level for a while after a very decent gain in the third quarter."
The CSI 300 Index rose 1.1 percent. Hong Kong's Hang Seng China Enterprises Index (HSCEI)dropped 0.7 percent, paring a loss of as much as 1.4 percent, while the Hang Seng Index also slid 0.7 percent. The Bloomberg China-US Equity Index retreated 0.7 percent yesterday.
The Hang Seng China index had gained 1.5 percent in its three trading days since Sept. 30, with pro-democracy protest leaders agreeing to start talks with the government Oct. 10, even as blockades remained on Hong Kong's streets.
Property Easing
Vanke, the nation's biggest listed property developer, gained the most since July 24 while Poly Real Estate's advance was the biggest since Aug. 4. China Merchants Property Development Co. (000024) added 2 percent.
People applying for a loan to buy a second home may get lower down payments and mortgage rates that were previously only available to first-time home buyers so long as they have paid off their initial mortgage, the People's Bank of China said in a statement on Sept. 30 after the market closed. The central bank also eased a ban on mortgages for people buying a third home.
The action marks a reversal in a four-year tightening campaign, as slowing property investment and industrial production raise risks that 2014 economic growth will drift too far below Premier Li Keqiang's target of about 7.5 percent.
Drugmakers Rally
SouFun Holdings Ltd. (SFUN) rose in New York yesterday after the Chinese home-listing website invested in broker IFM Investments Ltd. SouFun's American depositary receipts climbed 0.9 percent, bringing their one-week advance to 3.8 percent after the central bank loosened loan rules. Beijing-based SouFun, owner of China's biggest real estate information site, advanced after investing $51 million in IFM, manager of the Century 21 China brand, in an effort to expand into offline services.
A measure of health-care shares in the CSI 300 added 4.1 percent for the steepest gain among 10 industry groups. Drugmakers are the second-worst performers this year with a 0.9 percent gain. Jiangsu Hengrui Medicine Co. climbed 5.2 percent today.
An earthquake that struck southern Yunnan province last night destroyed almost 7,000 homes and injured 324 people, the official Xinhua News Agency said today. The 6.6-magnitude quake killed one person and the likelihood of major casualties is low, the Ministry of Civil Affairs said in a statement. An earlier statement by the Earthquake Administration had said the temblor resulted in "great casualties and heavy losses."
Investor Optimism
The Shanghai index surged last quarter on speculation reform measures will stem an economic slowdown and an exchange link with Hong Kong may fuel fund inflows. The measure is valued at 8.6 times 12-month projected earnings, compared with a multiple of 10.8 for the MSCI Emerging Markets Index, according to data compiled by Bloomberg. Trading volumes in the index were 11 percent above the three-month average today.
Chinese stocks' discount to global markets will continue to narrow as the government imposes more measures to reduce corruption at the fourth plenum this month, according to Aviate Global LLP analysts Robert Buckley and Douglas Morton.
"The rule of law is coming to China," with the judiciary set to gain more influence, Morton, the head of Asia research, said in a phone interview today.
Chinese investor confidence rose to the highest level since April 2008 last month, the Shanghai Securities News reported today, citing a survey of 4,330 securities investors conducted in the month. Almost 60 percent of investors are optimistic on the outlook for the A-shares market.
Economic Data
Economic data for September will be released from this week, starting with the HSBC Holdings Plc/Markit Economics China services purchasing managers index today. The index fell to 52.3 from 52.8 in August. An official non-manufacturing gauge for the country released Oct. 3 dropped to 54 for September from 54.4 in August. The China manufacturing PMI, issued Oct. 1, was unchanged at 51.1, after economists predicted a drop to 51. Readings above 50 signal expansion.
Global stocks tumbled yesterday with the Standard & Poor's 500 Index slumping to an eight-week low. The International Monetary Fund reduced its global growth forecast to 3.8 percent for 2015, from 4 percent, and warned about risks posed by geopolitical tensions and "frothy" stock markets. 
http://www.bloomberg.com/news/2014-10-08/china-s-stock-futur...