Shares of BJ's Restaurants, Inc. BJRI fell nearly 4% in afterhours trading on Jul 27, after the company reported lower-than-expected results for second-quarter fiscal 2017.

Earnings and Revenue Discussion

Adjusted earnings of 49 cents per share fell short of the Zacks Consensus Estimate of 51 cents by 3.9%. Moreover, earnings decreased 12.5% from the year-ago figure of 56 cents, primarily due to increased expenses.

Revenues of $265.8 million were up 6.2% year over year given an increase in total operating weeks, somewhat offset by lower weekly sales average. However, revenues missed the consensus mark of $270.4 million by 1.7%.

Inside the Headline Numbers

Comps in the quarter declined 1.4%, a wider decline from the prior quarter's comps decrease of 1.3% and the year-ago quarter's fall of 0.2%.

Notably, the company started off the quarter on a solid note with comps rising in April. However, the trend softened in mid-May and continued through June, thereby hurting overall comps in the quarter.

Restaurant level margin was 17.8%, down 280 basis points (bps) year over year. Moreover, operating margin decreased 310 bps to 4.7%. Notably, a 20-bps decrease in general and administrative expenses, as a percentage of total revenue, was more than offset by 120 bps and 60 bps increases in cost of sales as well as occupancy and operating costs, respectively. Additionally, labor and benefits charges increased 110 bps, thereby exerting substantial pressure on operating margin.
BJ's Restaurants, Inc. Price, Consensus and EPS Surprise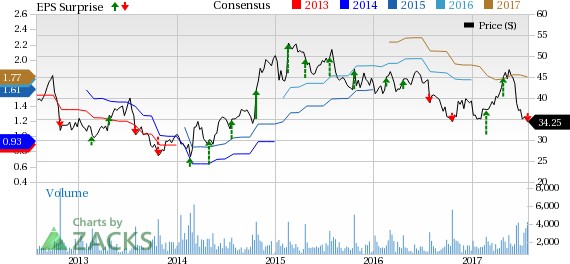 BJ's Restaurants, Inc. Price, Consensus and EPS Surprise | BJ's Restaurants, Inc. Quote
Going Forward

In order to navigate the challenging macroeconomic situation, the company is consistently following up on several major sales building initiatives, which have been tested over the past year.

Notably, it has completed the installation of new slow roasting ovens in all its restaurants including extensive team member training and menu sampling for the new slow roasted items. Moreover, BJ's Restaurants has rolled out new server hand-held ordering tablets at all its restaurants.

In fact, the initial results from these initiatives have been positive and the company has been witnessing an increase in average check and improvement in order times.

Given the fact that off-premise sales represent a considerable revenue growth opportunity, the company has been undertaking various efforts to enhance delivery and take-out services. In fact, it intends to leverage on its highly rated mobile app and website along with new third-party delivery partners to drive growth in off-premise sales.

In this regard, BJ's Restaurants partnered with technology company DoorDash in July to initially launch door-to-door delivery at 61 BJ's Restaurant & Brewhouse locations in 12 metro areas.

Along with these strategic initiatives, the company has expanded its daily Brewhouse specials offerings, developed a deep pipeline of new menu items, enhanced its loyalty program and undertaken other productivity initiatives that are likely to drive further growth.

BJ's Restaurants carries a Zacks Rank #3 (Hold). You can see the complete list of today's Zacks #1 Rank (Strong Buy) stocks here.

Peer Releases

McDonald's Corp. MCD reported second-quarter adjusted earnings per share of $1.73, beating the Zacks Consensus Estimate of $1.62 by 6.8%. Earnings also increased 19% year over year.

Chipotle Mexican Grill, Inc.'s CMG second-quarter 2017 adjusted earnings of $2.32 per share outpaced the Zacks Consensus Estimate of $2.16 by 7.4%. The figure also increased significantly from the prior-year quarter earnings of 87 cents, given a substantial rise in revenues.

Darden Restaurants, Inc.'s DRI fourth-quarter fiscal 2017 adjusted earnings of $1.18 per share outpaced the Zacks Consensus Estimate of $1.15 by 2.6%. Further, the bottom line surged 7.3% year over year on the back of higher revenues and lower share count

The Hottest Tech Mega-Trend of All

Last year, it generated $8 billion in global revenues. By 2020, it's predicted to blast through the roof to $47 billion. Famed investor Mark Cuban says it will produce "the world's first trillionaires," but that should still leave plenty of money for regular investors who make the right trades early. See Zacks' 3 Best Stocks to Play This Trend >>
Want the latest recommendations from Zacks Investment Research? Today, you can download 7 Best Stocks for the Next 30 Days.
Click to get this free report
Chipotle Mexican Grill, Inc. (CMG): Free Stock Analysis Report
BJ's Restaurants, Inc. (BJRI): Free Stock Analysis Report
McDonald's Corporation (MCD): Free Stock Analysis Report
Darden Restaurants, Inc. (DRI): Free Stock Analysis Report
To read this article on Zacks.com click here.
Zacks Investment Research