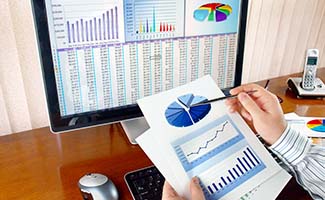 By Rebecca Corvino :
A correction is inevitable , right? Maybe another recession? With stocks soaring through 2017, leaving prior highs in their wake, the market's bound to lose steam at some point.
Or is it?
At best, it's impossible to know when new highs will be traded in for slips and slides. In the meantime, we wait, and we do our best to spot opportunities and take advantage of them.
Blue Harbinger recently pointed to evidence of a potential fall market top in " 10 Safe High-Income Opportunities " and wrote:
We believe the stock market is going much, much higher over the long term, but we also know many investors simply cannot stomach short- and intermediate-term volatility and thereby prefer to focus their investments on safe income-generating opportunities instead of simply very long-term capital appreciation.
In " Are Dividend Investors Becoming Irrationally Exuberant? ", Adam Aloisi wrote that over the past few months, he's struggled to find compelling dividend investment opportunities. He cautioned that "this is not the time to be aggressive. Dividend growth on a wholesale level is slowing, payout rates are rising, risks are escalating, while potential rewards are diminishing." Nevertheless, he wrote:
There is clearly a volatile, growth-speculative backdrop to today's market, but it should be characterized as much more rational and perhaps discriminate than 20 years ago. Back then, start-up IPOs, stock splits, and an unsophisticated chase dominated markets. At least today, investors seem keyed into profitable ventures rather than fly-by-night "dot bombs."
This week's Digest question aims to suss out some of those "profitable ventures" - if they really do exist. I asked several of our authors to respond to this question:
Where are you finding opportunities in this market? Or, alternatively, are you finding opportunities in this market?
And, here's what they had to say:
The S&P 500 is trading at a price-to-earnings ratio of 24.7. Its long-term historical average is 15.7. The market is certainly overvalued from a historical perspective.

While the market as a whole is overvalued, investors don't need to buy every stock in "the market." The stock market is made up of thousands of individual companies. Not all are overvalued; there are still a few bargains to be had.

With that said, finding dividend growth stocks with strong competitive advantages trading at fair or better prices is not easy in today's overvalued market.

The first place I look for high quality dividend growth stocks is the Dividend Aristocrats Index . Unfortunately, most are trading above their historical average valuation levels.

Around 10% of the Dividend Aristocrats Index (give or take) is still trading below its historical average valuation levels of the last decade. These tend to be great businesses going through temporary problems (the type of stock analyzed in Undervalued Aristocrats ).

In today's market, I'm finding opportunity where there's a lot of negative sentiment surrounding a stock - usually due to a weak earnings report or lower-than-expected guidance. There are still great businesses on sale, but investors must be willing to take a long-term perspective and buy in when these great businesses are experiencing temporary problems.
I must admit the current market value is making me a little bit uncomfortable. But betting against the market is a bad idea. Instead of trying to figure out when the market is about to crash, I rather work on finding value.

I always start my search with a focus on dividend growing stocks. I like the dividend achievers list as they count newer dividend growers in their list. But I don't stop there. I also pull out an equity search to find strong growers over the past five years. A long dividend growth history is nice, but...
More