By reviewing the earnings transcripts from the companies of the S&P 500, Goldman Sachs notes 4 key themes emerge from the maelstrom of double-speak, bravado, and actual data (GAAP or non-GAAP). Without question the US Dollar strength is a drag on multinationals and CEOs are resolute in that (despite mainstream media prognostications that 'king dollar' is "unequivocally good") but what CEOs and CFOs seems just as resolutely positive about is that while macroeconomic and geopolitical uncertainties still exist in Asia and Europe, they expect solid US economic growth in 2015. It appears - given the data - they will be disappointed.
Via Goldman Sachs,
Key takeaways from S&P 500 fourth-quarter 2014 conference calls
The Summary of Commentary on Economic Conditions, commonly known as the "Beige Book," is published by the Federal Reserve eight times per year. In it, the 12 regional Reserve branches offer anecdotal evidence on the current economic environment in their respective regions based on interviews with key business contacts, economists, market experts, and other sources.
In our quarterly Beige Book publication, we review the earnings transcripts of companies in the S&P 500 to monitor the anecdotal evidence of fundamental and thematic trends. We highlight four major themes from 4Q 2014 earnings commentary.
Theme 1: Multinationals lament the strong US dollar
Companies most exposed to international sales faced negative currency impacts on revenue and EPS. Even with hedges in place, managements predict this trend will continue in 2015. Companies that also incur significant costs in non-US locations witnessed an offset to lower revenue on the bottom line.
Firms with the highest international sales faced significant pressure from a strengthening US dollar. Currency translation impacts on earnings were more muted for companies that also incur significant costs overseas. We forecast both the euro and yen will depreciate by roughly 20% relative to the US dollar by 2017.
Selected examples: C, CAT, DD, GE, GOOGL, IBM, JNJ, MCD, PG, PSX, UTX, and XOM.
Theme 2: Low oil boosts US economy and business outlook
Lower oil prices were viewed as an overall benefit to US economic growth and consumer spending. Companies with significant oil-based costs also experienced a boost to earnings. However, unsurprisingly, certain Energy companies suffered severe negative effects to their businesses.
Our economists estimate that lower gasoline prices equate to a $175 billion "tax cut." Companies expect to see further pickup in discretionary spending in the latter half of 2015, when the savings created from lower oil become increasingly visible to consumers.
Selected examples: AA, BA, BAC, CAT, CL, DAL, F, KMI, PSX, V, and WFC.
Theme 3: Cash use tied to macro variables
Managements' capital spending forecasts relied heavily on the cash flow impact from lower oil prices and a stronger dollar. Energy companies cut capital spending budgets due to the drop in oil prices. However, this trend did not extend to other sectors and many firms that benefitted from lower oil increased cash spending guidance.
Firms severely affected by lower oil prices and the stronger dollar reduced capital spending guidance. Despite these cutbacks, dividends remained more or less unchanged. Buybacks also remain a major use of cash for most S&P 500 firms. We forecast 2015 S&P 500 capex and buyback growth will be -3% and 12%, respectively.
Selected examples: AMGN, APC, BA, COP, COST, CVX, DAL, DOW, FCX, MCD, MS, and SLB.
Theme 4: Management confidence lies with the US
Ongoing, stable US economic growth is a view shared by many firms. The outlook for Europe and Asia was less consistent and largely uncertain. Our US Economics team forecasts above-trend US GDP growth of 3% in 2015. Europe's uncertainty arises from economic and geopolitical concerns in Greece and Russia. Asia witnessed patches of positive growth but remains in a recovery phase.
Firms expect solid US economic growth in 2015. Macroeconomic and geopolitical uncertainties still exist in Asia and Europe. We expect the US economy will grow at an above-trend pace in 2015, led by a pickup in housing activity and an oil-driven boost in consumer spending.
Selected examples: C, CL, DD, FB, FCX, GE, JNJ, MMM, MS, PSX, and UTX.
*  *  *
A quick skim thropugh the actual examples of CEO 'confidence' about US growth suggests it is hardly brimming with exuberance...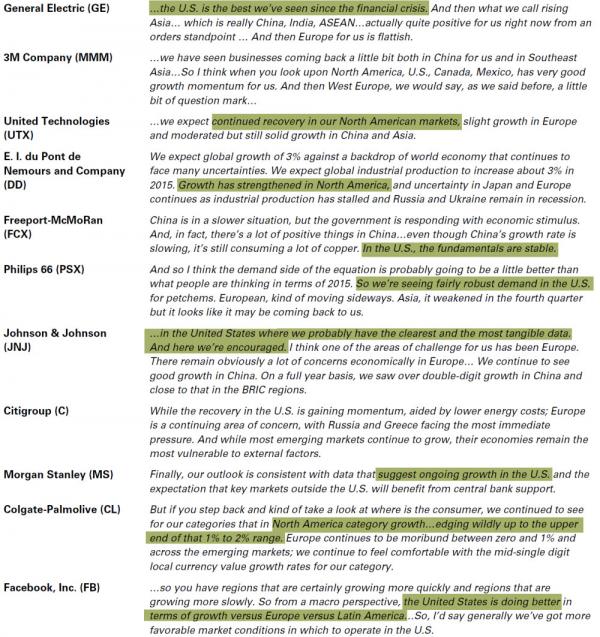 *  *  *
Despite all the happy talk, the data is not helping their case...
US Macro...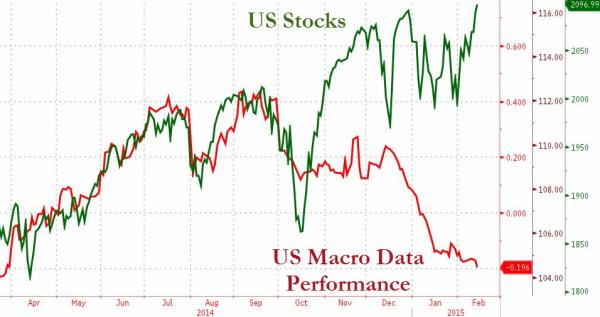 US Earnings...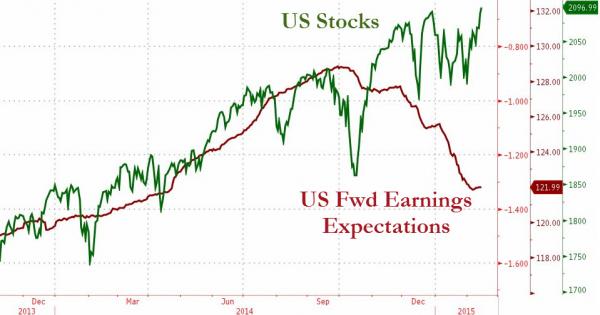 So now we know who was buying stocks in the face of this catastrophic data.... the corporations once again in a last desperate bid to keep the dream (and the Q1 comp) alive...