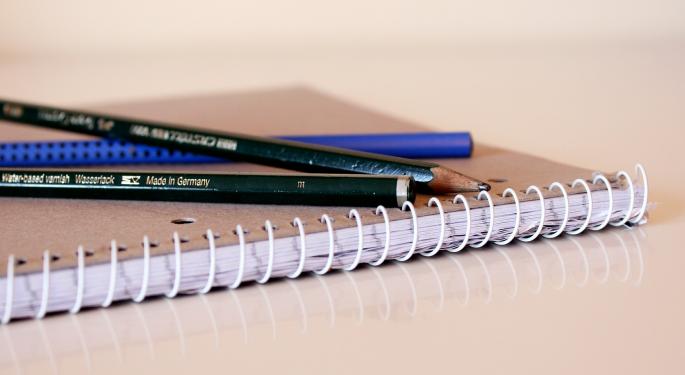 Upcoming earnings highlights include the latest results from two big-box retailers.
Wall Street analysts are looking for earnings growth from only one of them.
The differences are even more stark when it comes to expectations for the top line.
The retail earnings parade kicked off last week with mixed results from some prominent department store operators offering something for the bulls as well as the bears. Many more retailers are set to share their latest results this week, including leading specialty retailers Home Depot Inc HD 0.34% and Staples, Inc. SPLS 1.08%.
Home Depot
Wall Street's consensus forecast for home improvement superstore operator Home Depot is for earnings per share to have risen more than 13 percent from the same period of last year to $1.97. That estimate is the same as it was 60 days ago, but the highest individual estimate listed at $2.07. The consensus of 144 Estimize respondents calls for $1.98 per share for the fiscal second quarter that ended in July.
Estimize underestimated Home Depot's revenue in the past two quarters, and this time respondents are looking for $26.48 billion, which would be more than 6 percent higher year-over-year and the highest quarterly revenue in the past two years. Wall Street is in the same ballpark with its consensus forecast set at $26.47 billion. Wall Street also underestimated the top line in the past two quarters.
Staples
When Staples shares its second-quarter results, the Wall Street forecast is that its earnings will be the same as a year ago, or $0.12 per share, but on $4.78 billion in revenue, which would be a more than 3 percent decline. Analysts seem sure, as the EPS estimate is unchanged in the past 60 days, and the individual estimates only range from $0.11 to $0.13, which is also the range of the company's guidance.
The forecast from nine Estimize respondents sees EPS from the leading retailer of office products coming in at $0.13. However, the're a bit more cautious on revenue, with a consensus forecast of $4.75 billion for the three months that ended in July. Estimize narrowly underestimated revenue in the previous quarter, and the current estimate would be the lowest quarterly revenue in the past two years.
Home Depot is scheduled to report its results before the opening bell on Tuesday, while Staples is expected to post its numbers first thing on Wednesday.
Others In Play
Other retailers that Wall Street analysts expect to show at least some earnings growth when they report this week include American Eagle Outfitters, Foot Locker, Lowe's, Ross Stores, Stein Mart, TJX Companies and Urban Outfitters.
The consensus forecasts call for per-share earnings at Advance Auto Parts, Buckle, Dick's Sporting Goods, Gap, Hibbett Sports, L Brands, Stage Stores, Target and Wal-Mart to be smaller than a year ago. A net loss is in the cards for Children's Place, Citi Trends and Tuesday Morning, if the analysts are correct.
The following week, keep an eye out for earnings reports from the likes of Best Buy, Dollar General, GameStop and Tiffany.
At the time of this writing, the author had no position in the mentioned equities.
Keep up with all the latest breaking news and trading ideas by following
http://twitter.com/Benzinga
on Twitter.
© 2016 Benzinga.com. Benzinga does not provide investment advice. All rights reserved.