In a time where information and updates are available instantly, it doesn't take very long before people begin to discuss one thing or another via social media.
That seems the case with T-Mobile (NYSE: TMUS) CEO John Legere, who has shown in the past his bravery when it comes to Twitter (NYSE: TWTR) controversy, according to CNN Money.
Recently, T-Mobile foe Verizon (NYSE: VZ) released a new version of the company's iconic red and black logo. The refurbished image now dons a new, non-italicized font and the signature trademark check rests on the right side instead of the top.

In a snarky quip, Legere was quick to throw in his opinion of the creative change for his company's enemy, tweeting a "check" list of his own, disputing Verizon's service claims and stating, twice, that Verizon "screws over customers."
Woah.
Although social media allows individuals to chime in quickly on topics, it also serves as a platform for individuals to quickly make mistakes. However, Legere doesn't mind.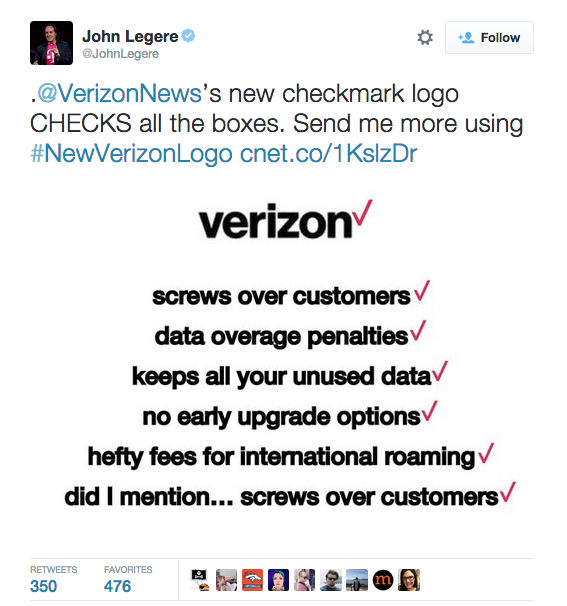 Perhaps taking a cue from Presidential frontrunner Donald Trump, Legere made his point, whether people were going to be offended by it or disagree with his intentions. In the past, Legere engaged in a tweet-for-tweet fight Sprint (NYSE: S) CEO Marcelo Claure over a Super Bowl advertisement, according to CNN Money.
However, this kind of low blow from a CEO? Perhaps it's time for Legere to take a step back and see if his reaction might tarnish the T-Mobile reputation in the long run.
For more business and financial news, click here.
*This is editorial content and expresses the opinion of the author.