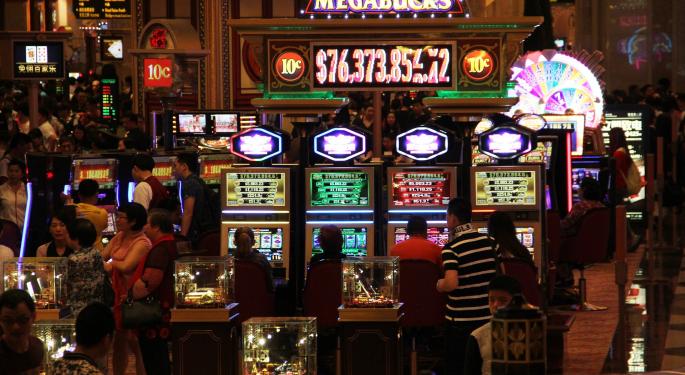 Macau kept its momentum going in a big way in November, delivering its largest year-over-year revenue gain since February 2014.
The latest data from the Macao Gaming and Coordination Bureau reveals that Macau brought in 18.7 billion patacas in October, up 14.4 percent year-over-year. Prior to August's 1.1 percent gain, Macau had registered 26 consecutive year-over-year monthly revenue declines. The industry has now followed its extended losing streak with a four-month winning streak of revenue gains.
The strong revenue number once again beat consensus analyst expectations of 11 percent growth in November.
Shares of resort operators Melco Crown Entertainment Ltd (ADR) MPEL 5.34%, Las Vegas Sands Corp. LVS 3.14%, MGM Resorts International MGM 1.74% and Wynn Resorts, Limited WYNN 3.77% opened Thursday's session flat to slightly down as traders took profits on strong November returns.
The Bottom Is In
November's big beat is further evidence that the multi-year decline in Macau is finally over. Growth numbers in recent months have been boosted by weak year-over-year comps, which should continue throughout the first half of 2017.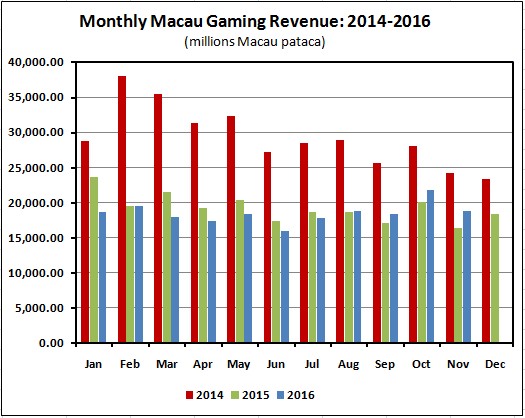 February 2015 marked the "high point" for gaming revenue declines at -48.6 percent. June's GGR of only 15.8 billion patacas represented the monthly low for revenue during the downturn and was the lowest monthly total Macau had recorded since September 2010. Only five months later, the industry seems to be accelerating once again.
November Notes
Total visitor arrivals in Macau hit 2.7 million in November. The number of overnight visitors was up 12 percent.
Despite the big November revenue beat, the Macau government maintained its conservative forecast for 200 billion patacas in revenue in 2017.
Disclosure: the author is long MPEL.
© 2016 Benzinga.com. Benzinga does not provide investment advice. All rights reserved.