When it comes to predicting the market's turbulent swings over the late summer, JPM's quant team has been absolutely phenomenal, with virtually every single call being absolutely spot on. We previously documented the best exampled as follows:
But it was his final call, that from the end of September, that may have been the most monumental. We flagged it on September 24 as follows: "Bears Beware, JPM's Head Quant Just Flipped To Bullish: "The Technical Buying Begins" and we noted that, according to JPM's calculations, quants are about to unleash a major buying spree.
This is what happened after: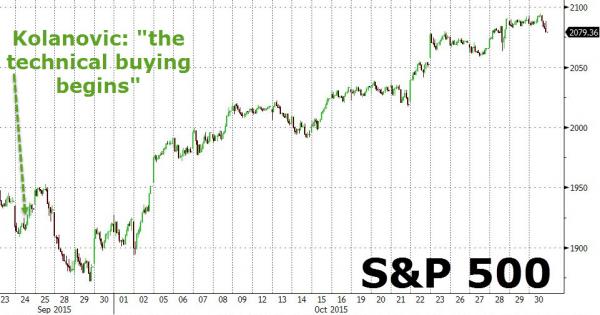 JPM was right. Again.
Where do we stand now? Here is the latest from JPM's quant wizards:
Since September 29th, balanced mutual funds has been the best performing sector among the above four sectors returning almost 7%. They are followed by risk parity funds which are up by 3% and Discretionary Macro hedge funds which are up by 1%. CTAs are the worst performing sector returning a negative 2%. In other words, among the four sectors, CTAs are the ones suffering the most due to their short equity exposure, while balance mutual funds benefited the most from the equity rally due to high equity exposure. How high are these equity exposures currently?

 

Figure 2 shows the 21-day rolling betas to equities for balanced mutual funds.

 

 

This beta started rising sharply in mid September and by mid October it had surpassed the previous high for the year seen last June. The equity beta of balanced mutual funds currently stands at a very high level by historical standards, creating vulnerability for equity markets in the near term. Similar to balanced mutual funds, risk parity funds appear to have also  increased their equity exposure sharply over the past month and their equity beta returned to levels last seen in early August (Figure 3).

 

 

The behavior of Discretionary Macro hedge funds and CTAs has been different. While Discretionary Macro hedge funds appear to have also raised their equity exposure over the past month, the rise was much less pronounced than that of either balanced mutual funds or risk parity funds. Their equity beta currently stands at a modest positive level and well below that of early August. CTAs, which had adopted a short position in equities from the beginning of August already, had increased their shorts in September and early October. But they appear to have capitulated in the middle of October, by not only cutting their equity shorts, but reversing and moving to a long position instead. This is shown more clearly in Figure 5 which shows both the 21-day and 10-day rolling equity beta of CTAs. The 10-day beta is a better reflection of the behavior of CTAs over the most recent couple of weeks, as it is not affected by observations during the first half of the month. This 10-day rolling equity beta shows an abrupt shift from a short to a long position in equities around the mid of the month. Indeed, while CTAs had suffered a loss of around 4% in the first two weeks of the month, they made a profit of 1% during the second half.
Putting it all together:
In all, while balanced mutual funds and risk parity funds are the ones which appear to have triggered the equity rally since the end of September, the rally was amplified at around mid October by CTA capitulation. The reversal of CTAs equity exposure from a short to a long position means that all four sectors, CTAs, Discretionary Macro hedge funds, risk parity funds and multi-asset or balanced mutual funds, are currently long equities. 
In other words, the catalyst that unleashed the torrid October rally which culminated with the biggest point gain in the S&P500 in history, is now over. As for retail...
Retail investors appear to have had little participation in October's equity rally with the exception of the end of the month, i.e. the week ending October 28th when their equity fund buying was more significant.
The two key points: the forced technical buying at the end of September, correctly predicted by JPM, is now gone, as "all four sectors, CTAs, Discretionary Macro hedge funds, risk parity funds and multi-asset or balanced mutual funds, are currently long equities." This means that either the corporate buybacks go into overdrive and soak up the excess risk exposure which the technical buyers have on their books, or retail investors do.
If neither happens, expect another downside volatile month, especially if the market realizes that - as we reported earlier this morning - even the Fed's own forecasting model now suggests slack in the economy is gone and the time to hike rates in December has arrived.