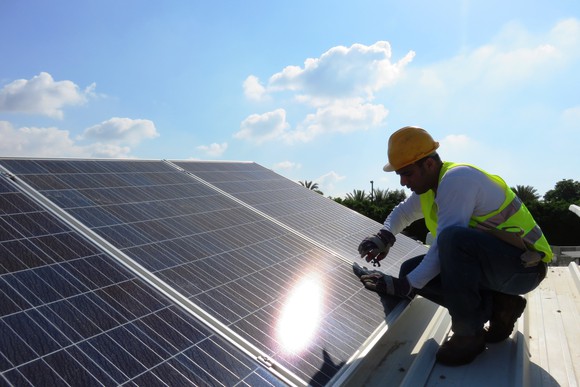 Image source: Getty Images.
Sunrun (NASDAQ: RUN) impressed investors on Thursday with quarterly revenue of $122.5 million and net income of $32.6 million, or $0.31 per share. And on the surface everything looks great: $51 million of NPV was added via leases and power purchase agreements (PPAs), and system & product sales more than doubled from the first quarter to $77.1 million, yileding the aforementioned profit.
But behind the numbers you'll see a business that's making extremely generous assumptions about its financials in the future. And that should worry investors.
Pulling the wool over investors' eyes
One thing hasn't quite made sense to me in Sunrun's financial reporting. The company has higher costs than competitors -- $3.67 per watt in Q2 compared to $3.05 per watt at SolarCity (NASDAQ: SCTY) and $2.94 at Vivint Solar (NYSE: VSLR) -- yet it says it's creating an incredible amount of value.
According to Sunrun, it is generating $4.61 in value for every watt it installed, while SolarCity is creating just $3.62 ($3.26 in contracted value). How does this make sense given the fact that they compete in a lot of the same markets for the same customers?
One answer hinges in how Sunrun defines value. Project value, according to Sunrun, is retained value plus upfront payments or benefits and tax equity. This retained value estimate includes an incredible amount of value that isn't contracted and would come 20+ years down the road. Here's a quote from the definition of retained value:
Estimated Retained Value represents the estimated nominal contracted payments remaining (discounted at 6%), less substantially all value from solar renewable energy credits ("SRECs") prior to July 1, 2015. It also includes a discounted (at 6%) estimate of the value of the solar system purchase or contract renewal at the end of the...
More